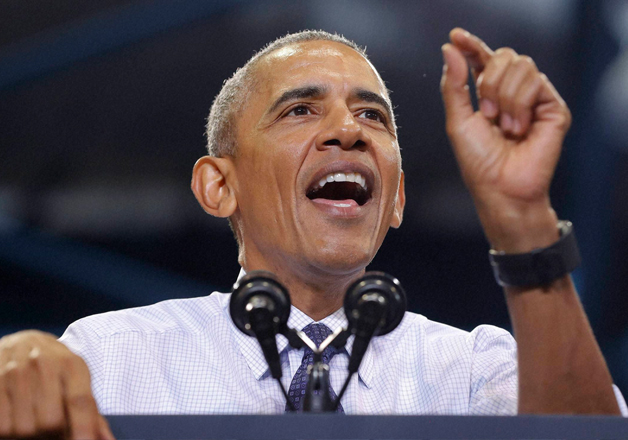 US President Barack Obama today attacked Republican presidential nominee Donald Trump, saying he does not share the values of most Americans and is 'uniquely unqualified' to hold the nation's highest office.
Addressing a rally in North Carolina for the second time in three days to garner support for Democrat nominee Hillary Clinton, Obama said, "Don't choose fear, choose hope."
"If you believe we're stronger together, then we can't elect a president who vilifies minorities, mocks Americans with disabilities, calls immigrants criminals and rapists. We can't elect a president who brags that being famous allows him to get away with something that, if you read the description, qualified as sexual assault; who calls women 'pigs,' 'dogs,' and 'slobs' and grades them on a scale of one to 10. That's not America," Obama, country's first African-American President told a largely black audience at Fayetteville State University.
The President went on to reflect on how he and wife Michelle Obama have tried to raise their daughters, Malia and Sasha.
"And we've taught them to respect everybody, that nobody is higher than you, but nobody is lower than you, and you don't lift yourself up by putting somebody else down. Those values that we've taught our children, that you're teaching your children, your grandchildren, we can't have a president who every day seems to violate those basic values," he said.
Noting that many Republicans have disavowed their party's nominee, Obama said it was "because Donald Trump is uniquely unqualified."
The latest polling shows Trump and Clinton tied in North Carolina, which most experts see as a must-win state for the Republican.
Obama narrowly won the state in 2008, but lost here in 2012, also by a slim margin.
The voting to elect 45th President of US will take place on Tuesday, November 8. The voting is expected to open between 6 am to 7 am and close at around 7 pm to 8 pm in most of the areas. It may continue till 9 pm in Iowa and North Dakota.
Around 120 million Americans are expected to cast their votes in Tuesday's election. Polling will happen in all 50 states on the same day.