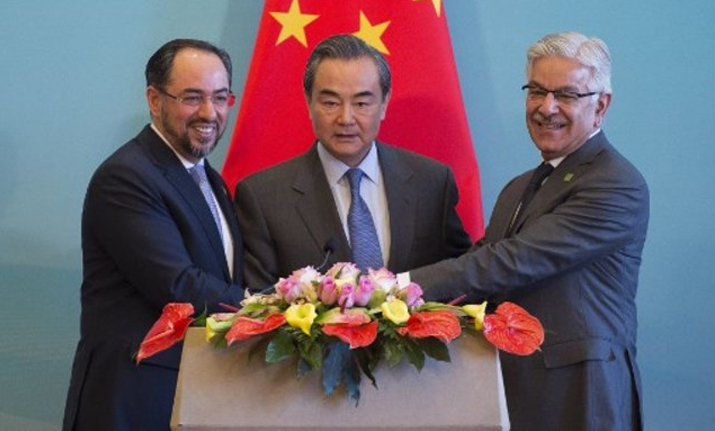 With India remaining reluctant on joining China's ambitious project One Belt One Road (OBOR) of which China-Pakistan Economic Corridor (CPEC) is a part, Beijing has said that it will look at extending their USD 57 billion project to Afghanistan.
Speaking at the first trilateral meeting of Foreign Ministers of China, Afghanistan and Pakistan on Tuesday in Beijing, its minister Wang Yi said that Beijing along with its all-weather ally Islamabad are considering extending the project to Afghanistan which passes through disputed area of Kashmir.
Wang hoped that the decision to extend CPEC to Afghanistan will benefit the entire region and will be key to development.
Wang noted that the land-locked nation has urgent need to develop and improve people's lives, saying 'Kabul can join inter-connectivity initiatives'. 
"So China and Pakistan are willing to look at with Afghanistan, on the basis of win-win, mutually beneficial principles, using an appropriate means to extend the China-Pakistan Economic Corridor to Afghanistan," he said, adding that 'Pakistan and Afghanistan had agreed to mend their strained ties' to restore peace in the region.
Any development related to extend CPEC to Afghanistan will be crucial to India because New Delhi has been strongly opposing the project which passes through Pakistan-occupied Kashmir (PoK). New Delhi has always said that the CPEC violates Indian sovereignty because it runs through PoK which is an integral part of Jammu and Kashmir. Also it will have somehow an adverse impact on growing India's role in Afghanistan to bring stability.
Pakistani Foreign Minister Khawaja Asif said that 'the successful implementation of CPEC will serve as a model for enhancing connectivity and cooperation through similar projects with neighbouring countries, including Afghanistan, Iran and with central and west Asia'.