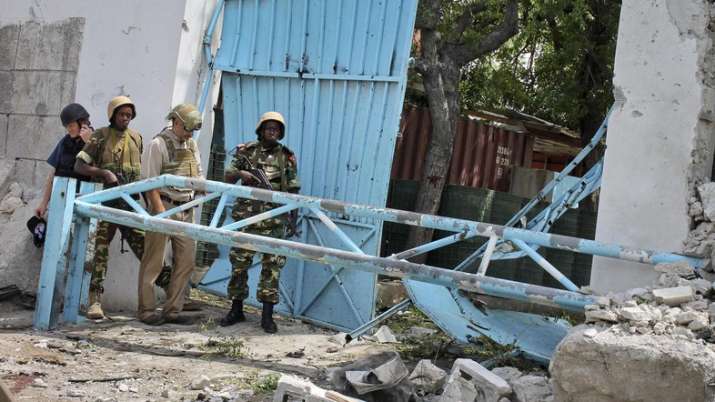 Mogadishu: At least 10 people, including seven U.N. guards, were killed today when two huge bombs s went off near Mogadishu's airport including the one at African Union's main peacekeeping base in Somalian capital.
The first blast happened near an entrance to the base, which is beside Mogadishu's main airport, and the second at a nearby checkpoint manned by Somali government forces.
Unlike previous attacks blamed on the al-Qaida-linked militant group al-Shabab, gunmen did not accompany the suicide bomber, Captain Mohamed Hussein said.
He said that the suicide car bomber tried to speed through the barrier at the U.N. office but guards shot at the car.
Hussein said a second suicide blast targeted a checkpoint manned by Somali security forces near the African Union base in Mogadishu. Casualties there remain unclear.
Al-Shabab has claimed responsibility for the blasts, according to the group's Andalus radio station. Al-Shabab is waging an insurgency against Somalia's weak U.N.-backed government.Al-Shabab wants to establish an Islamic emirate in the country based on a strict form of Islam.
Eight soldiers were killed when an al-Shabab suicide car bomber targeted a Somalia military training camp and attackers then entered the base on foot earlier this month.
(AP inputs)