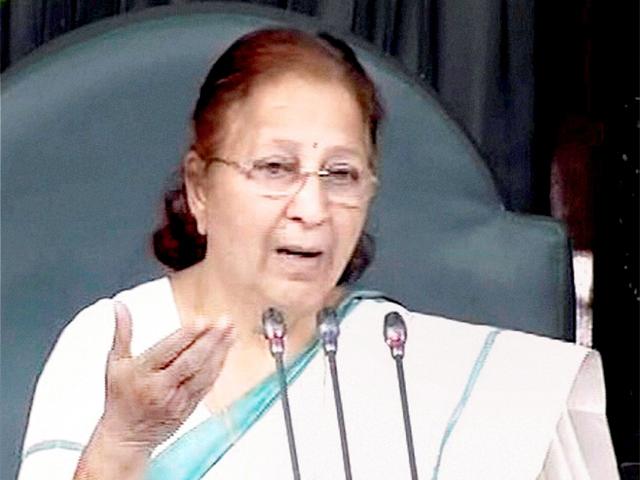 Indirectly targeting Pakistan for allowing terrorists to operate freely from its soil, Lok Sabha Speaker Sumitra Mahajan on Wednesday told the Russian Parliament that all nations should work collectively and decisively against terrorism and cross-border movement of terrorists.
Sumitra Mahajan urged the global community to work together to counter the increased threat from terrorism. 
Her statement came two days after terrorists attacked Amarnath pilgrims in Kashmir, killing seven of them and injuring 19. 
Earlier, Mahajan met Speaker of Duma Vyacheslav Volodin who conveyed condolences on behalf of himself and the members of the Russian Parliament on Monday's terrorist attack in Anantnag, according to a statement issued by the Lok Sabha secretariat. 
In her address to the Duma, the Lok Sabha Speaker mentioned that the Indian economy is growing at an appreciable rate and is one of the fastest among the emerging economies of the world by registering a growth 7.1 per cent in 2016-17.  She said the Government of India has rolled out the Goods and Services Tax (GST) from July 1 which is an important economic reform measure. 
Talking about India-Russia relations, she said there is an ambitious project of building energy-bridge.  Opening of International North-South Transport Corridor, establishment of green-corridor, technology transfer and deepening the mutual friendships between the peoples of the two countries are the areas which need to strengthened and further consolidated, she said. 
Expressing happiness that the State Duma has instituted an Indo-Russian Federation Friendship Group, she informed that similar initiative has been taken in the Indian Parliament.  She stressed that Parliamentary co-operation between the legislatures of Russia and the Indian states needs to be expanded. 
Highlighting the fact that defence relations between India and Russia have been historically important, Mahajan said these are not limited to seller-buyer arrangement but the bonds are deeper and friendly.
(With PTI inputs)