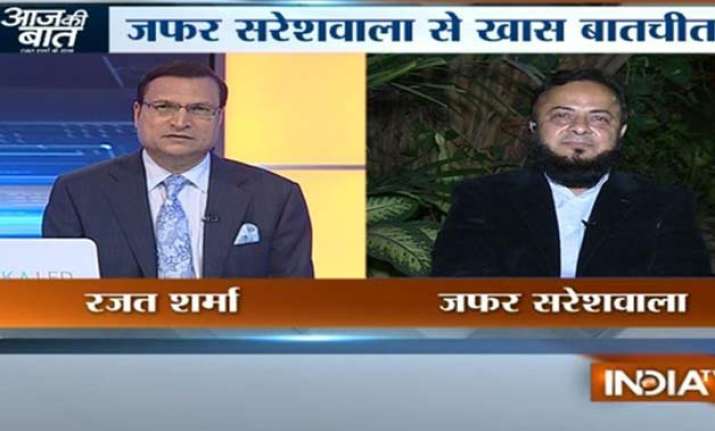 New Delhi: Zafar Sareshwala, Vice-Chancellor of Maulana Azad National Urdu University, today said that he was booed out of the meeting of All India Muslim Personal Law Board (AIMPLB) because the members do not want to disappoint there political leaders.
Talking to Rajat Sharma on Aaj Ki Baat, Sareshwala clarified his stand on the allegation that he went uninvited in the meeting to broaden Modi's propaganda. he said that he only went there to meet someone in there and did not have any political intention.
It is worth a note that Zafar Sareshwala, considered close to Prime Minister Narendra Modi was shown the door in the AIMPLB meeting. Slogans were also raised against him by the members present.  
He was also accused of blackmailing the board members that if they do not meet Modi, it will have adverse effects. Clarifying the accusation, Sareshwala said, "I only asked them if they do not meet PM Modi, what the Muslims would gain? I said the matters they are discussing should be conveyed to the PM."
He accused Personal Law members of politicization and said, "If they meet Modi, how would they answer to their political leaders?"
AIMPLB founder Kamal Farroqui also talked to India TV in an exclusive interview and said that right wing Hindu forces are holding foot in the country and Muslims are scared of it. To this, Sareshwala replied, "absolutely not, Muslims are even stronger now than ever before. There is nothing wrong. The right wing forces were even stronger in 80s and 90s and also in 2002 in Gujarat. Modi has kept them silent for the last 12 years. In my opinion, it is irrelevant."