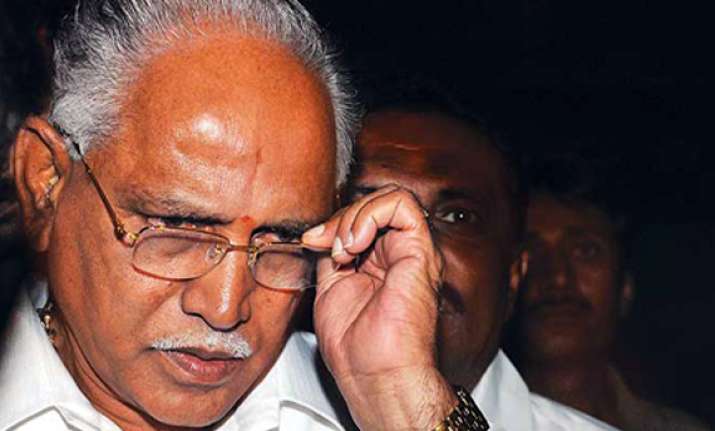 Bangalore, Feb 4: Jockeying for a suitable position in the BJP, an unrelenting former Karnataka chief minister B S Yeddyurappa will meet the party's central leadership in Delhi with a list of signatures of MLAs loyal to him to press for his demand.

Sources close to Yeddyurappa, said the Lingayat leader was expected to meet BJP President Nitin Gadkari and press for deputing a team of central leaders to Bangalore to convene the legislature party meeting to decide the leadership issue.

Yeddyurappa, who left for Delhi on Friday, had earlier set January 14 and January 30 as deadlines for the party to take a decision on his demand for either re-installing him as chief minister or appointing him as state party chief.

He later shifted the deadline to February 10.

Yeddyurappa's action comes against the backdrop of counselling by RSS leaders at Hubli last week asking him to wait for some more time and also advice by top BJP leadership to come clean from the corruption cases he faces.

The BJP high command had earlier told Yeddyurappa to keep cool till the conclusion of assemby elections in five states.

According to BJP sources, the party high command is unlikely to take note of Yeddyurappa's deadline.

Yeddyurappa loyalists, who embarked upon a signature campaign yesterday, were seen busy inside the state assembly securing signatures from MLAs.

In the light of fresh developments, Chief Minister D V Sadananda Gowda called on state unit BJP chief K S Eswarappa to his official residence 'Anugraha' and discussed the political situation.

A lokayukta court will pronounce its order tomorrow on whether to issue summons to Yeddyurappa in one of the graft cases filed against him.

However, Yeddyurappa has already been granted anticipatory bail in all the three cases and regular bail in two others and faces no threat of arrest.

Yeddyurappa's activities have caused a flutter in BJP and its government ahead of the state budget presentation, for which Sadananda Gowda is making preparations.

The BJP and the RSS have made it clear that it was impossible for the party to reinstate Yeddyurappa as he has to come clean in all the cases he had been charged with.

The main demand of a dozen BJP MLAs, who have started the signature campaign in Yeddyurappa's support, is that Gadkari come to Bangalore and assess the situation and also direct the state leadership to convene legislature party meeting at the earliest.

Soon after his return from the capital, Yeddyurappa will go in for a show of strength by hosting a dinner for BJP legislators at his Race Course residence on February 6.

This is seen as a parallel meeting as state BJP president K S Eshwarappa has called for core committee and ministers meeting the same day.

Yeddyurappa has also convened a meeting of his supporters on February 8 to press for early legislature party meeting so that legislators can choose their leader during the meeting.