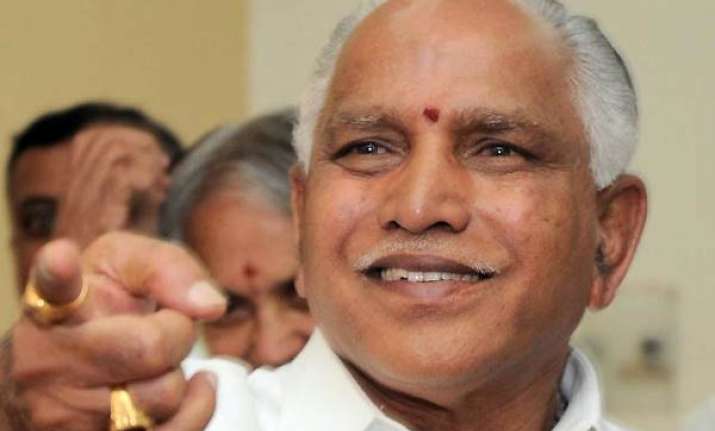 Bangalore, May 15 : Asserting that he enjoyed absolute majority in the Assembly, Karnataka Chief Minister B S Yeddyurappa today said there was no need for a trust vote in the light of the Supreme Court setting aside disqualification of 11 BJP and five independent MLAs.
However, Yeddyurappa, heading the first ever BJP Government in the South, said he would seek a floor test in the event of Governor H R Bhardwaj directing such a course. 
"If the Governor wants it, I am duty bound to oblige him," he said.
"That question does not arise at all. Already we have the support of 121 members. So everybody knows I have absolute majority," he said when reporters asked him whether he would seek a trust vote in the light of the Supreme Court quashing the disqualification of the MLAs by Speaker K G  Bopaiah.
"He (the Governor) is the Constitutional authority. I have lot of respects for him. I will oblige him, if he directs me. It is my duty to oblige his directions," Yeddyurappa said in an apparent attempt not to take the confrontation path with Bhardwaj, who is sore over the manner in which criticisms were hurled at him by BJP leaders.
Bhardwaj, who had maintained that the apex court verdict was a stricture against Yeddyurappa, said in Delhi today that he would seek expert opinion on whether a floor test was necessary. He said he would take a decision on the issue once he returned to Karnataka.
Putting up a brave front, Yedyyurappa said he did not anticipate any trouble from the Governor and expressed optimism of completing the remaining two years of his government's term.
"Not at all for another two years. I will concentrate on development in such a manner that BJP would return to power for another 15 to 20 years," he said.
He was speaking after BJP MLAs—C P Yogeshwar (Chennapatna), S V Ramachandra (Jagalur) and M Narayanaswamy (Bangarpet), elected in the recent byelectins—took oath in the presence of the Speaker.
Yeddyurappa said all the 365 days were "auspicious" for him, when asked about the urgency in going for the oath taking by the newly elected members on a Sunday.
In the 224-member state assembly BJP has a strength of 119 (taking 11 party rebels also into account), Cong 71, JD(S) 26, Speaker one, Indepdents six and one vacancy. PTI