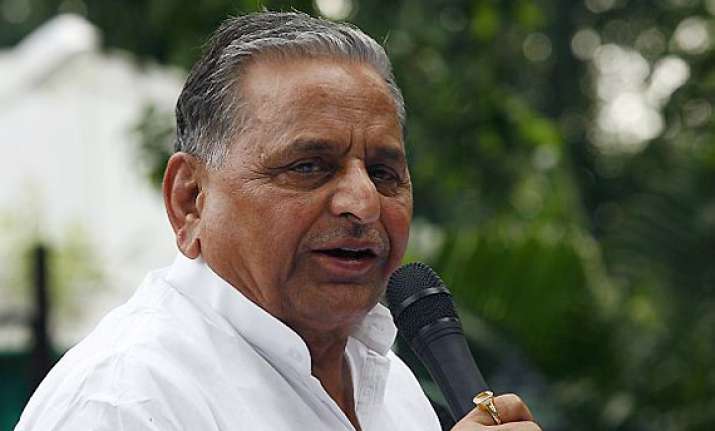 Allahabad, Jan 31: Samajwadi Party Supremo Mulayam Singh Yadav today declared that if his party was voted to power in Uttar Pradesh, he would set up schools and hospitals on lands where parks and memorials have been built by the Mayawati government in the state.

"Mayawati is the biggest land mafia the state has ever seen. She has forcibly acquired thousands of acres of land for building parks and memorials," Yadav told a huge election rally here.

Yadav said farmers, who protested the acquisitions were subjected to lathicharge and firing by the police, which is something nobody could have imagined when Samajwadi Party was in power.

"Nearly Rs 40,000 crore of public money was squandered for getting statues of elephants erected in these parks. All this was done in the name of B R Ambedkar, which is the the biggest insult to the dalit leader", he said.

"Ambedkar would have jailed Mayawati had he been alive today. We will accord him due respect by naming schools and colleges after him which we intend to build on the lands which Mayawati had captured in places like Lucknow and Noida for building these parks and memorials," the SP supremo said.

The former Chief Minister also reiterated the promise of waiving farmers' loans, unemployment doles and financial assistance to girls who, after passing Class XII, opted for higher education and exhorted his supporters to "come out in large numbers on the day of voting and help the Samajwadi Party to form its government with an absolute majority".

He also vowed, "one of my first steps upon coming to power would be declaring a number of backward castes like Bind, Nishad, Kahar and Kol as Scheduled Castes so that they enjoy the facilities reserved for SCs and have a better shot at their own betterment".

Speaking at the same rally, firebrand SP leader Azam Khan launched a scathing attack on the Congress, describing it as "a party that has always cheated Muslims" and blamed it squarely for the plight of the community "which is today worse off than the dalits, a fact acknowledged by the reports of the Sachar Committee and the Rangnath Mishra Commission".

"The Congress-led UPA government's gimmick of providing 4.5 per cent reservation to the minorities is yet another fraud against Muslims.

First they tried to create division within the community by talking of reservations only for the so-called backward Muslims.

Now, they are claiming to be champions of Muslims while cleverly hiding the fact that claimants to the meagre sub-quota include Sikhs, Jains, Buddhists and Christians as well", Khan said.

Khan said, "recently, the UPA government's law minister Salman Khurshid visited my home town Rampur".

He questioned the ambitious Jauhar University project laid down by the SP while it was in power in the state and asked why did Azam Khan work passionately about this project instead of building an Industrial Training Institute, which according to him, was more in sync with the needs of the community.

"I caution Muslims against the designs of the Congress party and its diabolical mindset vis-a-vis the community. We wanted to open a University so that our children too could become doctors and lawyers.

"But Mr Khurshid and his party want us to be no better than turners and fitters. The people should make their choice keeping this in mind", the SP general secretary said.

Khan also lambasted the Mayawati government in the state for failing to check atrocities against Muslims in the state and recalled the infamous Lakhimpur Kheri rape case in which "one of our daughters was sexually assaulted, murdered and her body hung from a tree outside a police station".