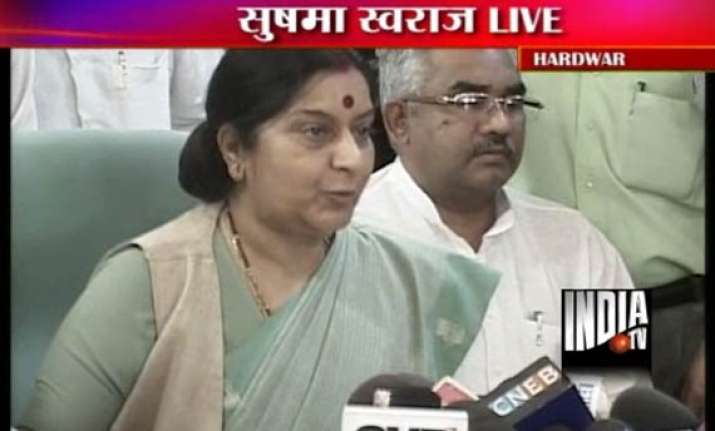 Haridwar, Jun 8: The Leader of the Opposition in Lok Sabha Sushma Swaraj on Wednesday met the ailing yoga guru Swami Ramdev and said that "his health was deteriorating, though he was strong mentally".
 
Addressing a raucous press conference, the BJP leader said, she met Ramdev outside the Patanjali Yog Peeth in order to avoid the assembled media.
 
"But the most disturbing thing for me is that neither the Prime Minister nor Sonia Gandhi want to the hospital to meet those people who were injured in the Ramlila Ground police action", said Swaraj. 
 
"I had gone to the LNJP hospital on the day following police action and met 35 injured people, of whom four were serious. Among them a lady Rajbala is still in the ICU because  she bore a lathi blow on her neck rendering her whole body paralyzed. Doctors say she may remain paralyzed for the rest of her life.
 
"Another boy underwent surgery at LNJP yesterday. On the other hand, a government minister on the day following the incident had claimed that no one was injured in the police action", said Swaraj.
 
"How can this government send four ministers for  talks with Ramdevji and then send 5,000 policemen to beat his followers?", asked the BJP leader. 
 
Swaraj rejected Congress charges that Swami Ramdev was an RSS agent.  "They had said the man who tried to throw a shoe at Congress HQ was an RSS agent, but then withdrew their allegation. This is the same party which had  said Jayaprakash Narayan was a CIA agent".
 
The BJP leader refuted rumours that she had gone  for "a strategy session" with Ramdev, saying that there was no talk about strategy. "I only inquired about his health".
 
In Delhi, BJP leader Shah Nawaz Hussain said the party would hold an anti-corruption rally in the capital soon.