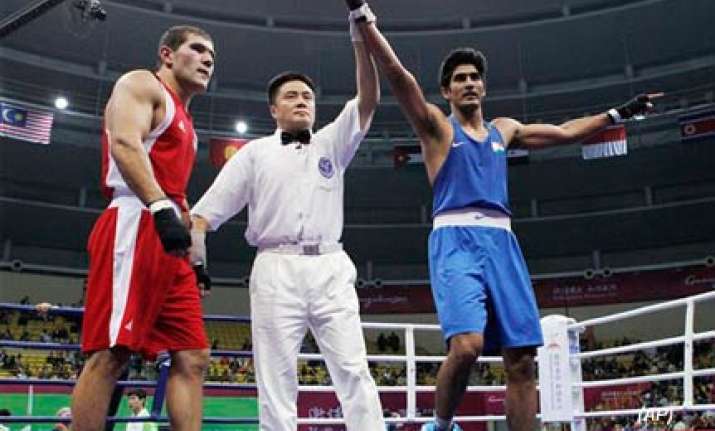 Guangzhou, Nov 26: World number one Vijender Singh (75kg) clinched an unprecedented second boxing gold for India at the ongoing Asian Games while two others settled for silver to round off the best ever campaign by the country's pugilists at the quadrennial mega-event, here today.
It was sweet revenge for Olympic and World Championship bronze-medallist Vijender when he blanked reigning world champion Abbos Atoev of Uzbekistan 7-0 at the Foshan Gymnasium.
Atoev had beaten the 25-year-old Indian at the World Championship semifinals last year but this time Vijender plugged the loopholes which led to that loss and emerged a clear winner.
However, V Santhosh Kumar (64kg) and Manpreet Singh (91kg) settled for silver medals after losing in the finals.
While Santhosh lost 1-16 to Kazakhstan's Daniyar Yeleussinov in finals, Manpreet went down 1-8 to Mohammad Ghossoun of Syria to take India's silver tally to three in boxing after Dinesh Kumar (81kg) had finished second yesterday.
Indian boxers thus ended their campaign with two gold -- the first coming through Vikas Krishan (60kg) yesterday --, three silver and two bronze medals -- Suranjoy Singh (52kg) and Paramjeet Samota (+91kg).
Santhosh opened the proceedings for India today and found himself on the backfoot from the very start.
Too defensive and somewhat intimidated, the Indian could neither prevent his rival from connecting punches nor create any noteworthy attacking chance all through the bout and was thoroughly out-slugged.
But Vijender wiped off the disappointment with a performance fitting the hype around him. The dashing six-footer crouched a bit and took full advantage of his long reach and taller height against Atoev, whom he had beaten in the Asian Championships last year.
Hitting straight and clear, Vijender, who was a bronze-medallist at the 2006 Asian Games, defended stoutly, seldom letting Atoev to attack.
But the ferocity of Vijender's attacks was such that the Haryana-boxer, who had settled for a bronze at last month's Commonwealth Games, had Atoev dazed with a telling left hook in the second round.
The Uzbek, drained of his energy, struggled in the final three minutes and hardly managed to create any problem for the nimble-footed Vijender, for whom it was the year's second international gold medal, after the Commonwealth Championships in March.
But the day was to end disappointingly for the Indians as Manpreet proved no match for Ghossoun. The Army boxer's movement was sluggish and that helped Ghossoun to strike at will all through the contest.
Unable to launch any attack, Manpreet played defensive but he could not achieve much success in that either as Ghossoun penetrated his defence rather easily to strike clear straight blows.
Nonetheless, it was a fantastic show by the country's pugilists. PTI