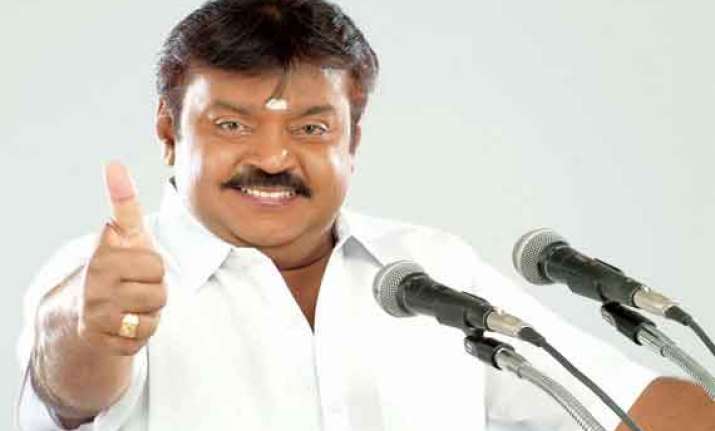 New Delhi : Desiya Murpokku Dravida Kazhagam(DMDK) party leader Vijaykant is mulling fielding candidatesfor the upcoming Delhi assembly polls. 
The Tamil Nadu-based party is banking on the 15 lakh Tamils, who have made the national capital their home, party sources said. Vijaykant is likely to make an official announcement about his party's entry into the poll fray at a public meeting to be organised at Jantar Mantar here on Sunday.
"Our party leader would address a large gathering in Delhi. We held discussions with Vijaykanth, who would take the final call on the candidates and constituencies," V N Dakshinamurthy, Delhi state secretary of DMDK, told PTI. 
The actor turned politician, party sources said, was apprised of the problems of Tamils living in Delhi.  
Dakshinamurthy claims that Tamils belonging to Scheduled Caste and Scheduled Tribe categories were facing problems as they cannot seek any benefits using their community certificates after migration.
 "They are living in over a 100 slums spread across the national capital under unhygienic conditions," he stated.  
Dakshinamurty also accused Tamil organisations based in Delhi for allegedly neglecting the interests of downtrodden people.
"Against this backdrop, we took up the issue with Vijaykant. In fact, it for the first time that a political party from Tamil Nadu would be contesting on such a massive scale in Delhi," he added.
About 1.15 crore electorates in Delhi would exercise their franchise in 70 constituencies on December 4.  DMDK is the principal opposition party in Tamil Nadu and party chief Vijaykant is the Leader of Opposition in the state.