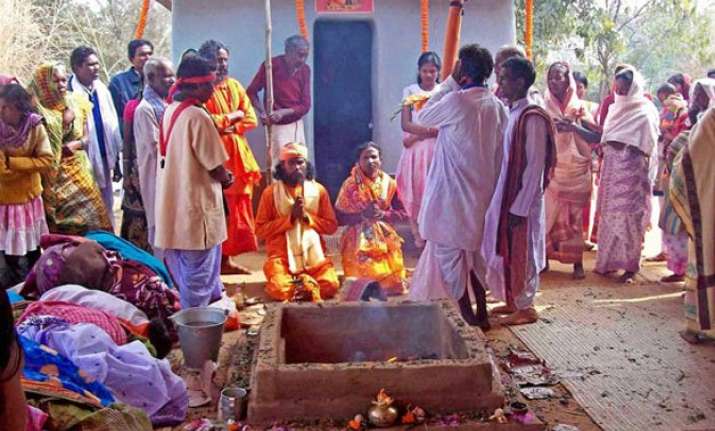 Kolkata: It is well known that West Bengal's ruling party – Trinamool Congress and Bharatiya Janata Party are arch rivals yet lately, Trinamool was seen silent over a 'shuddhikaran' ceremony conducted by a BJP affiliate – Vishwa Hindu Parishad in Birbhum district.
The ceremony in which Christian tribals were converted to Hinduism, as claimed by a local VHP functionary, Churka Tudu, witnessed 'Shuddhikaran' of around a 100 Christians.
It is learnt that the local TV channels and newspapers did cover the ceremony which is reportedly the part of a largest campaign carried out by VHP country-wide.
A Trinamool Congress member filed an FIR on the same day when conversions happened against VHP general secretary Jugal Kishore for making a hate speech at the ceremony and against Praveen Togadia for making one at a nearby venue on the same day. However, no arrests were made.
Then, days later Bengal CM Mamata Banerjee also addressed a public rally at a village near Birbhum and claimed tall that her government will have zero tolerance towards forced conversions and those involved would be booked however, still  no arrests were seen in the area.
Officials down the line are also trying to play down the incident. "I don't know the details. I have heard that some people were forcibly converted, but I cannot confirm it," was all Anarul Hossain, a local Trinamool Congress leader said to a leading daily.
"Our officials went to the spot and submitted a report to the state government," said a senior bureaucrat in the district administration who did not wish to be named. "There has been no conversion."
BJP has, reportedly, more support in the area than Trinamool and municipal elections are also around. In such a case, if arrests on the same issue would have happened then it would have been proved to be an easy win for Trinamool however, since this did not happen so now it is being speculated that Trinamool is anxious about lack of support in the region.