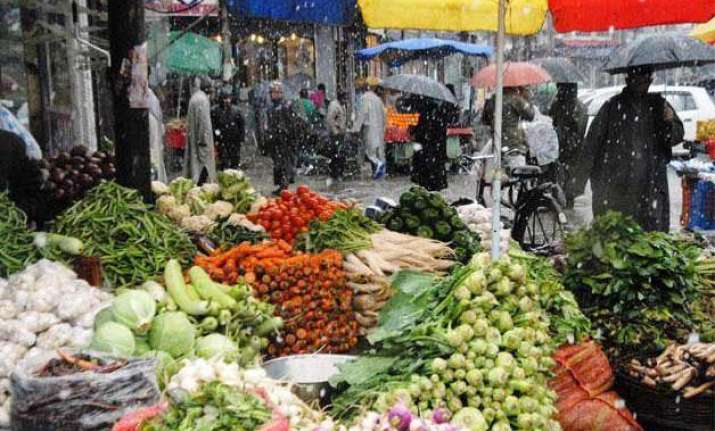 New Delhi: Despite a prolific winter, the prices of vegetables and pulses are increasing upward relentlessly.
In several cities, prices are higher than average. In Jaipur, Chandigarh, Dehradun, Delhi, Mumbai and Ahmedabad, tomatoes are selling at Rs 30-Rs 40 per kg, over 100% more than last year's price.
In Chennai, Jaipur, Shimla and Thiruvananthapuram, onions are priced at over Rs 30 per kg, almost 70% more than last year. In Bhubaneshwar, Mumbai, Chennai and Ahmedabad, cauliflower is selling at over Rs30 per kg, almost twice the price last year.
The above given figures are based on information collected by the National Horticulture Board (NHB) in average of 30 cities.
Before this it was reported that food inflation strengthened in February on the back of rising vegetable, pulses and onion prices and the unseasonable rains in some parts of the country is expected to continue putting more pressure.
In vegetables, the crucial issue appears to be the supply chain from the farmer to the consumer. The average difference in wholesale and retail prices ranges between 40% and 60%. Note that this margin is largely within cities where wholesale markets are located. It does not count transport costs from the farm to the wholesale market.
Meanwhile, prices of already costly pulses have climbed up further by up to 25% in the past year, going by the data collected from 68 cities and towns by the consumer's affair department.
An organization named, India-Ratings said it believes that the recent unseasonal rains do not augur well for rabi crops in general and vegetables in particular. Vegetable inflation, which is already quite high, may remain so in the near term also. There is continuous rise in price of vegetables despite decline in inflation rate.