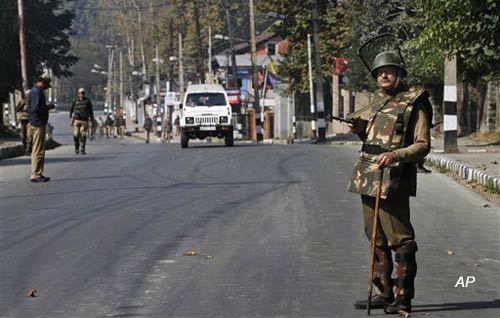 Srinagar, Nov 5 (PTI) Curfew was today imposed in parts of Srinagar city as a precautionary measure while life remained normal in rest of the Kashmir Valley with hardline Hurriyat faction exempting the day from strike in view of Diwali.
"Curfew has been imposed in areas falling under the jurisdiction of police stations Nowhatta, Rainawari, Khanyar, Maharajgunj, Safakadal, Maisuma and Kralkhud," a police spokesman said, adding it was a precautionary measure as there were apprehensions of protests after Friday prayers.
He said police divisions of Bemina and Qamarwari have also been placed under curfew.However, Chattipadshahi area in Rainawari police station has been exempted from the restrictions to allow the Sikhs living in Srinagar city to visit gurudwara on the occasion of Diwali, the spokesman said.
Elsewhere in the Valley, normal life continued for the second day as the Hurriyat Conference faction led by Syed Ali Shah Geelani suspended its protests following an appeal from a Sikh organisation in view of Diwali.
The main markets in Srinagar and other major towns of the Valley wore a festive look as private offices, shops and business establishments reopened this morning.
All modes of transport were plying on routes, causing massive traffic jams.Police said the Valley including Srinagar remained peaceful.
"There were no reports of any untoward incident from anywhere so far," they said, adding the situation has been by and large peaceful in the last couple of days.
Official sources said security forces have been deployed in strength in sensitive areas as a precautionary measure to maintain law and order and foil any attempt to disturb peace.PTI