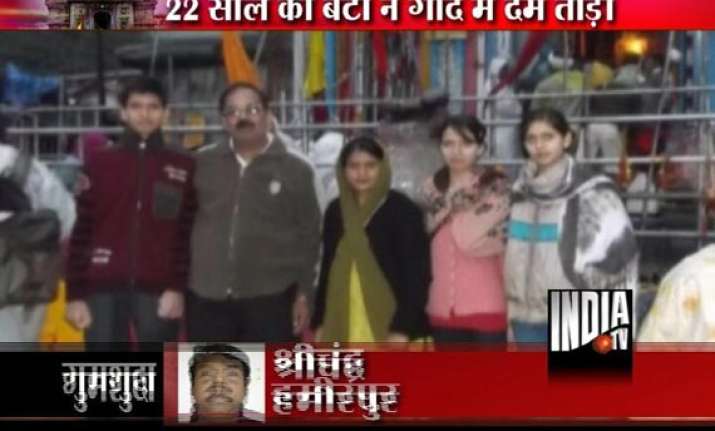 Meerut, Jun 26: On celluloid, millions of Indians might have seen their favourite heroes dying in the lap of their mothers in tear-jerking scenes, but what happens when not one, but two siblings die of hunger and thirst in the laps of their parents with devastation all around near Kedarnath? Read on.
Sunil Sharma and his wife Upama alongwith their son and three daughters had left on a happy trip to Kedarnath on June 14 from Meerut.  They performed pooja at the Kedarnath shrine on the fateful day of June 16, and then death struck!
As huge waves of river Mandakini carrying big stones lashed the holy town of Kedarnath, the Sharma family ran up the hilly slope for their lives. The sound of flowing, lashing water was so deafening that one of the survivors still wakes up in fear in her sleep.
"After we went up the hilly slope, we waited for help, hungry and thirsty. On June 17, our second daughter Monika suddenly went missing. The next day, June 17, our eldest daughter Anuradha, age 22, died in my lap", recalled a weeping Upama.
"The same evening, my youngest son Shivak too took his last breath because of hunger and thirst. We had lost all hopes", the sobbing mother said.
"Luckily, the following day, we found our daughter Monika. A family from Madhya Pradesh had taken care of her. We waited for rescue, and ultimately the Army jawans came", says Sunil Sharma.
"In the dead of night, I scream and wake up, when I hear the deafening sound of an angry river", says Monika.