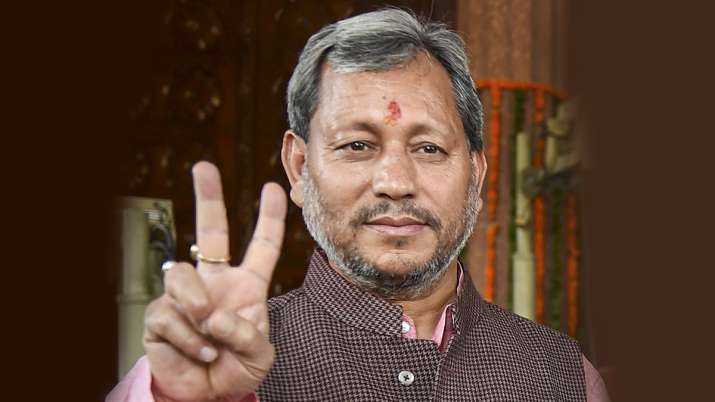 Senior BJP leader and Lok Sabha MP from Pauri, Tirath Singh Rawat, on Wednesday evening took oath as the Chief Minister of Uttarakhand. Governor Baby Rani Maurya administered him the oath of office and secrecy at the Raj Bhawan in Dehradun. Rawat comes from a staunch Rashtriya Swayamsevak Sangh (RSS) background. Despite playing an important role in the Sangh and the BJP's organisational structure for a long time, he is a leader who believes in keeping a low profile, staying away from the limelight. He served as a full-time RSS worker for a period of five years. He was the first Education Minister of Uttarakhand after the state assumed its new, separate entity.
Rawat, 56, has done post-graduation in Sociology from Birla College, Srinagar, Garhwal in Uttarakhand and also holds a PG diploma in the field of journalism. His wife is a college lecturer by profession.
Rawat was born on April 9, 1964 in Seeron village of Pauri Garhwal. He joined the Sangh's student organisation, Akhil Bharatiya Vidyarthi Parishad (ABVP) during his student days. From 1983 to 1988, he took up the responsibility of being a full-time RSS worker.
He then entered mainstream politics with the BJP. In 1997, when Uttarakhand was a part of undivided Uttar Pradesh, he was elected a Member of Legislative Council. After the formation of Uttarakhand as a separate state, he became the first Education Minister of the hill state in 2000 under the BJP dispensation. Rawat became the BJP's Uttarakhand state General Secretary in 2007. He also served as the Chairman of the Uttarakhand Natural Disaster Management Advisory Committee. In 2012, he became an MLA from Chaubattakhal Assembly constituency in Uttarakhand. At the same time, the BJP's national leadership made him the state president of the Uttarakhand BJP in 2013 due to his expertise in building the organisation. The saffron party had fielded him from the Garhwal constituency during the 2019 Lok Sabha elections and he won the election by a margin of more than 2.85 lakh votes.
The BJP's decision to change its Chief Minister in Uttarakhand comes just a year before the hilly state goes to polls. 
Uttarakhand government formation Highlights 
PM Modi congratulates Tirath Singh Rawat
Prime Minister Narnedra Modi on Wednesday congratulated Tirath Singh Rawat on being sworn in as the new Chief Minister of Uttrakhand.
Tirath Singh Rawat takes oath as CM
BJP leader Tirath Singh Rawat sworn in as new chief minister of Uttarakhand.
Tirath Singh Rawat thanks BJP leadership
Tirath Rawat thanked the party for giving him an opportunity to serve the state. "I had never thought that I would get such an opportunity. The party has now decided that the opportunity to serve as CM should be given to someone else now," he said.
Tirath Singh Rawat to take oath at 4 PM today
Bharatiya Janata Party leader Tirath Singh Rawat will take oath as the new Chief Minister of Uttarakhand on Wednesday at 4 PM. Currently, Tirath is a Lok Sabha member from Pauri parliamentary seat. 
Who is Tirath Singh Rawat?
Tirath Singh Rawat served as the chief of Uttarakhand BJP from February 2013 to December 2015. He was a member of the Legislative Assembly from Chaubttakhal (2012 to 2017). Currently, Tirath is a Lok Sabha MP. He was elected from the Pauri Lok Sabha seat in the 2019 general elections. He defeated his nearest rival Manish Khanduri by more than 3.50 lakh votes.
Uttarakhand govt formation: Tirath Singh Rawat to be the next Chief Minister
Uttarakhand government formation LIVE: BJP legislative party meeting begins at the party office in Dehradun.
Dhan Singh Rawat frontrunner for CM's job
Dhan Singh Rawat has emerged as a frontrunner to be successor of Trivendra Singh Rawat who resigned as chief minister on Tuesday. Rawat represents Srinagar Garhwal constituency in the Legislative Assembly. CLICK HERE TO READ MORE
Uttarakhand govt formation: BJP leaders arrive at the party office in Dehradun for party's legislature meeting
Who will become the next CM of Uttarakhand? 
About half a dozen names have been doing the rounds as probables for the chief minister's post including Haridwar MP Ramesh Pokhriyal 'Nishank', Nainital MP Ajay Bhatt, state Tourism Minister Satpal Maharaj, Rajya Sabha MP Anil Baluni and state minister of Higher education Dhan Singh Rawat.
Uttarakhand government formation: BJP legislature party meet today 
A meeting of Uttarakhand BJP's legislature party will begin at 10 am at the state party headquarters here to decide the successor of Trivendra Singh Rawat who resigned as chief minister on Tuesday. The meeting will start at 10 am at the party office on Balbir Road.
Earlier on Monday, Trivendra Singh Rawat met central BJP leaders in Delhi amid speculation that the party is mulling political changes in the state. He will meet Governor Baby Rani Maurya shortly. Riding on pro-Modi sentiments, the BJP had won 57 seats in the 2017 elections to the 70-member state assembly. Rawat was named as its chief ministerial choice after the polls. Uttarakhand will go to polls early next year. 
READ MORE: 'Party's decision', says Trivendra Singh Rawat after resigning as Uttarakhand CM