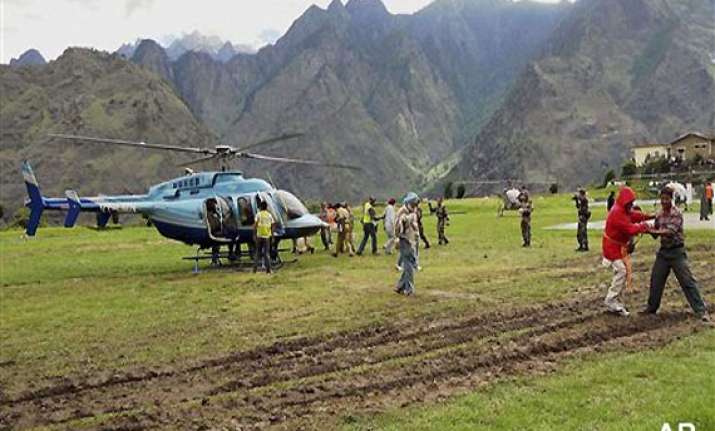 Haridwar, Jun 21: Shocking stories of bureaucratic apathy have come to notice after a group of 23 pilgrims from Rajasthan stranded in flood-ravaged Kedarnath, returned on Thursday to allege that senior district officials and police officers were the first to board the first chopper that came and vanished, leaving them with a 'village patwari' to take care of them.
Dhan Singh Rathore, of Jautpur, Rajasthan, who was with the 23 pilgrims, said, most of the pilgrims were emaciated, and were surviving on rain water and biscuits for four days . They needed immediate health care, but the babus and police officers boarded the chopper first, leaving them behind.
"This is indeed shameful", said Rathore. "Only the army jawans are selflessly helping people around", he added.
This is not an isolated incident. There were frayed tempers  when pilgrims trapped for more than four days in Kedarghati alleged that the choppers are being used only to ferry MPs, MLAs, and ministers who just come and leave after their "surveys".
Each chopper carrying MPs and MLAs can carry at least four sick pilgrims and food and other supplies, they said, but the choppers have been commandeered by local politicians.
At the Sahastra Dhara helipaid, Congress MP from Garhwal Satpal Maharaj and tourism Minister  Amrita Rawat had to face the brunt of pilgrims who objected to the netas flying back without any contribution to relief and rescue work.
In Gopeshwar, Chamoli, Uttarakhand chief minister Vijay Bahuguna faced the ire of Badrinath MLA Rajendra Bhandari, who complained about local officials bringing pilgrims from upper reaches and dumping them at Joshimath. "Where are the food packets for these people", he asked angrily.
Chief Minister Bahuguna said, bigger choppers would be arranged to ferry back pilgrims to safer places from Badrinath, Ghanghria, Pulna and Govindghat.
Bahuguna had a funny explanation: "Most of the food packets that we throw are swept off by wind and do not reach the victims".