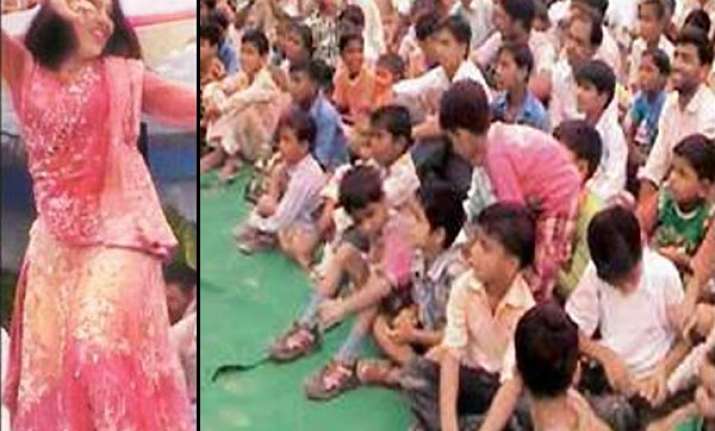 Lucknow, Aug 12 : On Wednesday, the Dharmpur Gujjar village primary school owned by a Samajwadi Party leader in Deoband hosted a cultural programme.

Bar dancers were brought to do the usual gyrations in front of a flock of wide-eyed primary school students, reports Mail Today.

The primary school  turned into an arena for bar dancers and for four hours, the students were made to witness the lewd gyrations.

SP leader Rajendra Rana, a minister in the erstwhile Mulayam Singh Yadav government in the state, has been chosen as the party's nominee from the Deoband constituency for the oncoming assembly elections.

And he was so elated that he got the 'dirty dancing' show staged at the Dharmpur Gujjar village school run by his family.

What was worse, students of a nearby primary government school were also invited for the " cultural" programme.

"The celebration continued from 11 am to 3 pm. We wanted the children to either stay in the classes or go home. But Rana's men forced them to join the crowd. When we told the SP leader that this could spark a major controversy, he said he would manage it," a teacher of the government school alleged.

For his part, Rana explained the get-together as a Gujjar awareness meeting.

"I was not present when the cultural show was held. The kids attended the programme because it was organised during lunch hours," he claimed.

"But I have been organising such functions while campaigning for the Vidhan Sabha elections. Only folk dancers performed at the venue," he added.

The row appeared to have given sitting Bahujan Samaj Party MLA Manoj Chaudhary a stick to beat the SP nominee with.

"The voters are aware that the SP candidate spends crores of rupees on bar dancers to pull in the crowds. He also distributes money during the polls. His insensitivity was on show again on Wednesday when he forced children to watch the dirty dances," Chaudhary said.

"In fact, Mulayam is known to promote crime and lewdness. When our leader Mayawati removed Dibai MLA Guddu Pandit because of his criminal activities, Mulayam inducted him in the SP. He selected Rana as his party's Deoband candidate because he likes lewd dances himself and doesn't care about the feelings of the people," the BSP legislator added.