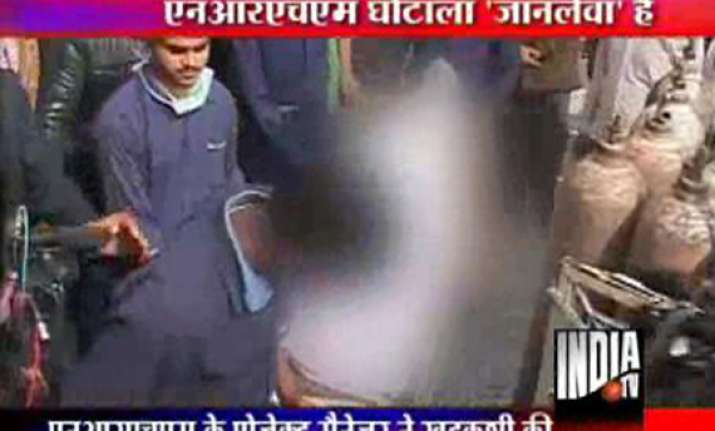 Lucknow, Jan 23:  Sunil Verma, a key accused in the multi-crore NRHM scam in UP, allegedly shot himself dead today at his residence here in the fourth mysterious death in the case.

Police here said 52-year-old Verma killed himself with his licenced weapon at his Vikas Nagar residence around 8.30 AM. He was rushed to hospital where he was declared dead.  

Verma was named in the first FIR filed in the scam relating to upgradation of 134 hospitals across Uttar Pradesh for an amount of Rs.13.4 crores by Construction and Design Services, a unit of UP Jal Nigam in which former state minister Babu Singh Kushwaha also figured.  

The CBI had alleged the work was given to a Ghaziabad-based firm on the basis of bogus and forged documents and the construction was of inferior quality causing a loss of Rs.  5.46 crore to the exchequer.

Verma, who was National Rural Health Mission (NRHM) Project Manager with the Construction and Design Services, was named in the FIR and searches were conducted at his residence on January 4, this year, the CBI sources said, adding that he was neither questioned in the case nor was he asked to appear for questioning.

He had been under depression after the CBI searches at his residence, family sources said.

This is the fourth mysterious death related to the scam with the murder of two Chief Medical Officers (CMO) and a Deputy CMO, who was found dead inside the jail hospital here.  

While two CMOs of the family welfare department—Vinod Arya and B P Singh—were murdered here in October 2010 and in April 2011 respectively, Deputy CMO Y S Sachan was found dead under mysterious circumstances in the jail in June last year. 

The Allahabad High Court had directed the CBI to inquire into the misuse of NRHM funds following these murders.  

The CBI, probing the scam, has carried out searches at the houses of various officials, including bureaucrats and businessmen associated with the family welfare department. 

Kushwaha and another state minister Anant Mishra, who had resigned on moral grounds in the wake of the controversy, have been questioned by the CBI.

The CAG has in a report strongly indicted the state's health and family welfare department functionaries, middlemen and contractors for allegedly guzzling Rs 5,700 crore of the Rs 8,657 crore released between 2005 and 2011 under NRHM.  

Shortly after Verma's death, UP Chief Minister Mayawati said the kind of urgency which has been shown regarding investigation in the NRHM case "seems a political conspiracy".  

"This is all a political conspiracy...No matter how much damage they try to make to our party politically, they will not succeed...By their actions, they are only strengthening our chances of winning more seats in the elections," she told NDTV.

Noting that the NRHM was an "independent body," Mayawati said, "If there was something wrong going on here, then why were they (the Centre) releasing these installments to us?  "They say UP officials are to be blamed...But, I say that the central officials are the real culprits for the mess," she said.

Demanding that Verma's case be handed over to the CBI, Pramod Tiwari, a UP Congress leader, said his death has taken place in "very mysterious circustances".

"I don't know...You are saying that he shot himself dead.  I have doubts....whether he was forced to shoot himself or whether he was shot by some other person. We should not believe the story suggested by the police," he told reporters. 

"I strongly say that this matter should be given to the CBI to find out whether he committed suicide or was he shot," Tiwari added.
DIG, Lucknow, D K Thakur said that a suicide note has been recovered in which Verma has said that he has done nothing wrong.

Thakur said that the note states that he has done nothing wrong but the manner in which the CBI had carried out searches at his residence on January four has pained him and it was because of this that he was taking his life. 

He has written that no one in the family or his department should be harassed for the suicide, the DIG said adding all aspects related to the case were being probed. 

Sources in the Shekhar Hospital, where Verma was rushed, said that he had shot himself in the temple. "Verma was brought dead", they added.