Follow us on Aligarh District (Uttar Pradesh): Over the past three years, Sukhdev Garg, a 57-year-old, has lost two hours of his day. Here in the fields outside Biraula—a western UP village 350-km west of the state capital Lucknow—he spends two hours extra waiting for the water from his borewell to be pumped up for his wheat crop.
 
Garg's longer day is the result of Biraula's falling water table, which has gone down by 8 ft over three years. So, the pump has become slower at pumping out groundwater.
 
Garg's predicament is increasingly apparent across India's most-populous state. With a steady rise in the use of and demand for water, areas classified as affected by a groundwater crisis increased nine times between 2000 and 2011. From 20 blocks in 2000, the affected blocks (administrative areas smaller than districts) have increased to 179 in 2011, according to a report from the Central Ground Water Board. Its Lucknow regional office warns of a coming "irreversible decline" in groundwater levels.
 
It isn't as if UP is short of replenishable groundwater—sub-surface water stored in veins of water in soil and rocks, refuelled by rains and percolation from rivers and lakes. But with "unregulated extraction", as the groundwater board puts it, water is being drawn faster than it is recharged.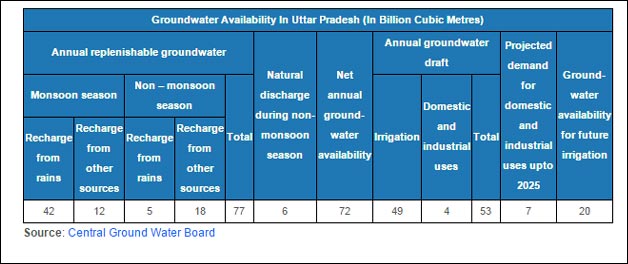 UP's 4.2 million tubewells, 25,000 deep wells and 30,000 government tubewells, are exhausting groundwater resources for irrigation, according to the UP irrigation department. Consequently, groundwater available for irrigation is projected to be 59% less than what is used today, said the groundwater board report.
 
About 70% of the irrigation water comes from groundwater sources, according to the irrigation department, and this depletion can only be bad news for a farm sector steadily spiralling into crisis, as IndiaSpend had earlier reported from UP's Bundelkhand region.
 
"If the present trend of the increasing demand remains incontrollable, the resource (groundwater) may be as strategic as are the minerals and the petroleum resources," said this statement from the Lucknow office of the Central Ground Water Board. "Ruthless deforestation and modification of hill slopes in catchment areas have adversely affected the hydrological cycle of the region."
 
How development drives the crisis
 
Across parts of northern India, skyrocketing demands on water for agriculture and growing populations have pushed groundwater to levels more critical than anywhere else on earth. More than half of India now faces what is called "high" to "extremely high" water stress, as this graphic indicates. Most of the regions depleted of groundwater sprawl across the fertile plains of the Ganges-Brahmaputra basin, an area of "intense groundwater withdrawals" for irrigation, this study reported.
One reason there is less water percolating through northern India's soil is the excessive use of fertilisers and tractors, making the sub-soil less porous. Experts suggest a greater use of low-lying land close to ponds and lakes for farming, so that rain water can easily irrigate such farmland.
 
"Greater use of organic manure and reduced use of chemical fertilisers can reduce sub-soil compacting and increase porosity," said Himanshu Thakkar, coordinator of South Asia Network on Dams, Rivers and People, an advocacy group. "We also need to understand the groundwater-recharge mechanisms and learn to protect and enhance them."
 
Water policies, programmes and practices should focus on growing groundwater recharge and regulating extraction, perhaps by offering incentives for systematic cropping patterns and methods that use less water and fewer chemical fertilisers, said Thakkar. The prognosis is grim because there is no evidence of the state or UP's farmers following such practices or even addressing the state's deep-water crisis.
 
Garg's longer day is likely to become longer still as water levels fall further—provided, of course, there will remain water to pump up.
(Indiaspend.org is a data-driven, public-interest journalism non-profit)