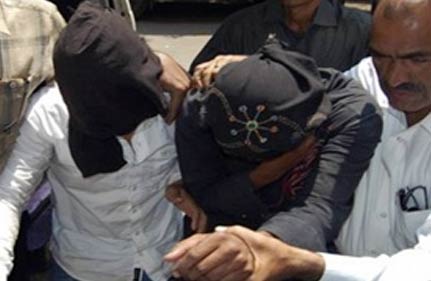 Mumbai, Nov 29: Two suspected LeT operatives have been arrested near here for plotting strikes on oil and military installations in Maharashtra, Rajasthan and Gujarat and an important railway station in the metropolis, a top police official said today.
The duo was also trying to recruit members for the Pakistan-based group, responsible for the 26/11 terror attacks here, Maharashtra Anti-Terrorism Squad (ATS) chief Rakesh Maria said.
Mohammed Shareef Makhandeen Thakkar (33) and Mohammed Isak Mohammed Rasheed Kumlakh (29), both hailing from Jammu and Kashmir's Rajouri district, were apprehended from adjoining Thane district on November 15. Two Tokarev pistols and 13 live cartridges were seized from them, he said.
The two were working as oil tanker drivers for a private firm in Thane's Talasari town and trying to lure their colleagues in the company and friends from Silvassa and Vapi, who had a good knowledge about the roads, key locations and other geographical details, Maria said.
Thakkar and Kumlakh, who were receiving instructions from the LeT handlers for the last six months, were on the verge of going for terror training in Jammu and Kashmir and across the border, the senior IPS officer said.
"The duo was instructed to gather details about oil installations in Maharashtra, Gujarat and Rajasthan and military installations in Mumbai, Pune and Aurangabad," he said.
"The two are part of the terror group that is conspiring to carry out more attacks in the country."
Thakkar had also conducted recce of Mumbai Central Railway Station. They might have surveyed oil and military installations as well, Maria said.
Relevant sections of Unlawful Activities (Prevention) Act were applied against the two on November 21 and they were remanded in police custody till December 2, Maria said.
Kumlakh's brother-in-law Mohammed Ayub, a terror suspect, had been gunned down by security forces in Jammu and Kashmir nearly three years ago following which he came in contact with LeT operatives, he said.
According to ATS sources, Thakkar has been living in Talasari for the past 10 years, while Kumlakh has been residing in the same town for the last five years. PTI