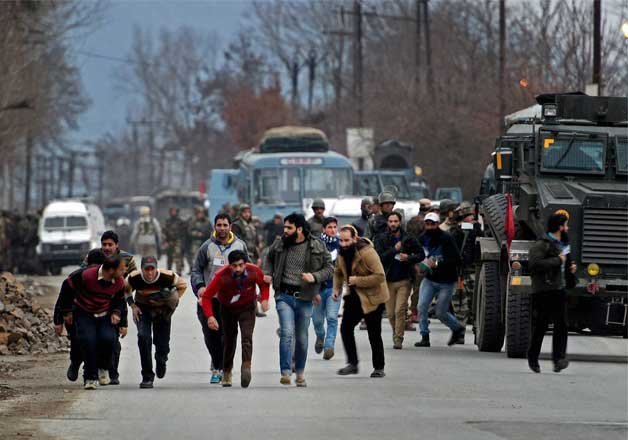 Srinagar: Three army men, two CRPF soldiers died in the ongoing gunfight between security forces and militants in Jammu and Kashmir's Pampore.
Earlier this morning, an army official was killed when security forces raided a multi-storeyed building near Pampore town in Kashmir to flush out hiding guerrillas. "An officer of 10 Paras Pawan Kumar attained martyrdom, leading his men from the front in a tricky operations as terrorists are hiding in a government building with the possibility of some more civilians being trapped is not ruled out," a senior police official said.
"Heavy firing exchanges are going on in the area and the Srinagar-Jammu highway has been closed for safety purposes," the police official added.
A paramilitary central reserve police force (CRPF) spokesman has denied the media reports that three CRPF troopers were killed in the gunfight so far. "We have lost two troopers. The rumour about the death of the third trooper is wrong," he said.
The number of injured CRPF troopers has, however, risen to 13 after three more troopers got injured during the operation, he informed.
With the death of the army official, the toll in the gunfight has risen to four. This includes a civilian, Abdul Gani Mir, gardener of the Jammu and Kashmir Entrepreneurship Development Institute (JKEDI). Mir succumbed to bullet injuries sustained during the gunfight on Saturday.
Authorities are unsure about the number of militants but averted a possible hostage situation after police and paramilitary quickly evacuated the building though some of those in the J& K Entrepreneurship Development Institute building said they were allowed to go by the two heavily-armed militants.
Terrorists first attacked a Central Reserve Police Force (CRPF) bus on the highway and later entered the building located nearby. The building had 150 employees inside at the time of the attack.  
"Militants attacked a CRPF bus on the Jammu-Srinagar highway near Pampore town in Pulwama district today (Saturday) evening," a senior police officer said.
After attacking the CRPF bus, the militants entered the multi-storeyed JKEDI building situated close to the highway when more than 150 trainees and staff members were present inside.
"Security forces surrounded the building and focused on safe evacuation of the civilians while engaging the holed-up militants in sustained exchange of gunfire. So far, 150 trainees and staff members have been safely evacuated. After we make sure there are no civilians inside the complex, the final assault against the holed-up militants will be launched," the official said.