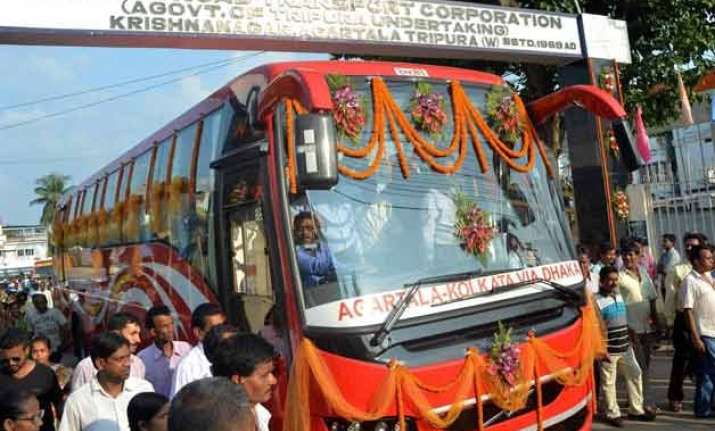 Agartala: Tripura Transport Minister Manik Dey today flagged off the Agartala-Kolkata bus service via Dhaka, with passengers from Tripura Road Transport Corporation (TRTC) bus depot here.
The Kolkata-Dhaka-Agartala bus services and the Dhaka-Shillong -Guwahati bus services were jointly flagged off on June 6 by Prime Minister Narendra Modi and Bangladesh Prime Minister Sheikh Hasina during Modi's Dhaka visit.  Tripura joined the service today, merely after four months.
"The bus service was scheduled to begin on October 14 but has been postponed following the assault of an officer of Tripura Road Transport Corporation (TRTC) in Dhaka on Monday," Dey told reporters.
However, he said, when the air ticket from Agartala to Kolkata is so high it would give some sorts of relief to the passengers as the initial bus fair was fixed at Rs. 1800 including the travel tax to the Bangladesh government.  
TRTC had purchased a 45-seater Volvo bus at a cost of around Rs 91 lakh for plying between Agartala to Kolkata via Dhaka, he added.