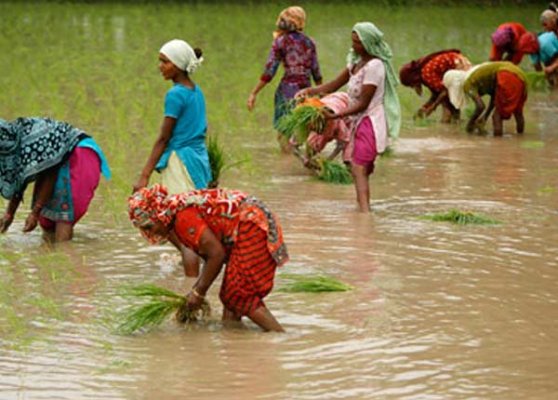 New Delhi: Once battling to save their crops from possible drought situation, farmers in Punjab and Haryana are now struggling to save their harvests from torrential rains, all thanks to the erratic monsoon.
Farmers in both the states are facing tough time as India Meteorological Department (IMD) predicted heavy rains for the next 36 hours.
The torrential rain has forced all major kharif crops -- paddy (including basmati), cotton and maize in danger.
Cotton harvest has just begun in Punjab's Malwa region whereas in Haryana, cotton arrivals are on. Both the states account for nearly 14 per cent of India's cotton output.
Reports stated that water in canals, in Mansa, flooded about 10,000 acres of cotton crop.
In Uttar Pradesh, the conditions of small farmers remain grim as they stare at big loss due to monsoon delay. This delay has pushed nearly 20 districts to the brink of drought. The dry spell has damaged paddy in several part of the state. The state government, however, has not declared drought but insufficient irrigation in several regions clearly indicate that the overall kharif output will suffer this time.
The situation in West Bengal is also hit by unusual rain. State Agriculture Minister Purnendu Bose said that only parts of Bankura, Purulia and East Midnapore have been affected. Some East Midnapore villages have suffered badly.
In Jharkhand, the situation is vice-versa. The state saw a monsoon surge in August which came as a boon for paddy because paddy sowing was delayed in the state. Officials said that approximately 82 per cent of cumulative coverage has been reported from all 24 districts and more rains are likely to be received which will ultimately enhance chances of a good rice crop.
In Bihar, government data showed that despite floods in some northern districts due to landslides in Kosi River in Nepal, reasonably kharif crop are expected. Agriculture officials said that 94 per cent target is achieved as paddy transplantation is over on 31.5 lakh hectares against a target of 34 lakh hectares.
Heavy rain in Odisha affected 23 districts. RS Gopalan, Director, State Agriculture Department, said that there is no report of significant crop loss in the state. Till date, the state has received 10 per cent excess rainfall.