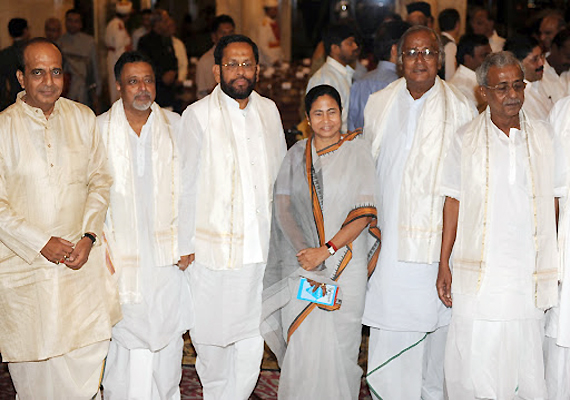 New Delhi, Mar 13: Top parliamentary leaders of major ally Trinamool Congress tonight kept away from the dinner hosted by the Prime Minister to keep the flock together after which the government expressed confidence of sailing through crucial financial business during the Budget session.  

Trinamool made a token presence at the dinner at Prime Minister Manmohan Singh's residence with backbencher Ratna De Nag representing the party.

The issues to come up during the three-month long session were discussed and Finance Minister and Leader of Lok Sabha Pranab Mukherjee impressed upon the leaders that all members of their parties should be present in the House as there are crucial businesses that will come up.

Home Minister P Chidambaram told reporters that there was a "fair chance" that there could be voting on occasions during the debate on Budget and Railway Budget.

"We all agreed that there should be greater coordination because of crucial items of business—Motion of Thanks to the President's Address, Railway Budget and General Budget," he said.

"There is a fair chance that there could be voting when these three subjects are taken up," Chidambaram said, adding "therefore we requested the allies that they should ensure that their members are present in the house and vote along with the government."

He expressed confidence that financial business would be passed in Parliament.

"We confidently look forward to effective participation in Parliament during the next couple of weeks until the essential financial business is completed," he said.