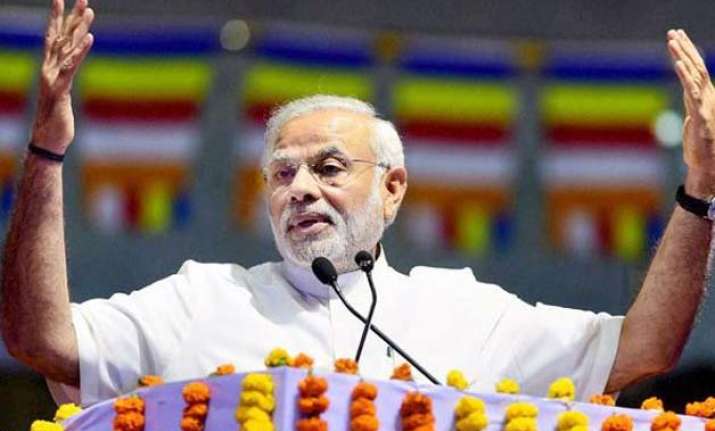 1. PM Narendra Modi to visit naxal-affected Dantewada in Chhattisgarh
Raipur: Prime Minister Narendra Modi will today visit naxal-affected Dantewada district of Chhattisgarh to take stock of socio-economic development initiatives being
taken there.
2. Kolkata: PM Modi to launch social security schemes
Kolkata: Prime Minister Narendra Modi will today launch three mega social security schemes – Pradhan Mantri Jeevan Jyoti Bima Yojana (PMJJBY); Pradhan Mantri Suraksha
Bima Yojana (PMSBY) and Atal Pension Yojana (APY) – here in the city.
3. Sushma Swaraj to inaugurate National Executive of BJP Mahila Morcha
Bhopal: Minister of External Affairs Sushma Swaraj will today inaugurate the National Executive of BJP Mahila Morcha in Bhopal.
4. Navy to commission Porbandar base INS Sardar Patel
New Delhi: INS Sardar Patel, the latest naval base of Indian Navy, will be commissioned in Porbandar this week with the aim to beef up security along the vast
coastline, which is a "key vulnerability" in the security calculus of the country.
5. Arun Gawli Son's wedding today
Nagpur: Mafia don-turned-politician Arun Gawli has arrived in his home town to attend and solemnise his only son Mahesh Gawli's wedding to be held today. Gawli's only son, Mahesh (27) will tie the knot with Krutika Ahir (20) of Nagpur at a venue in Mahalaxmi, Mumbai.
6. Akhilesh Yadav plays 'rajput card', Maharan Pratap anniversary declared as public holiday
Lucknow: In lieu of Uttar Pradesh Assembly Elections in 2017, Akhilesh Yadav's government has declared Maharan Pratap anniversary on May 9 as public holiday, in order to woo the Rajputs.