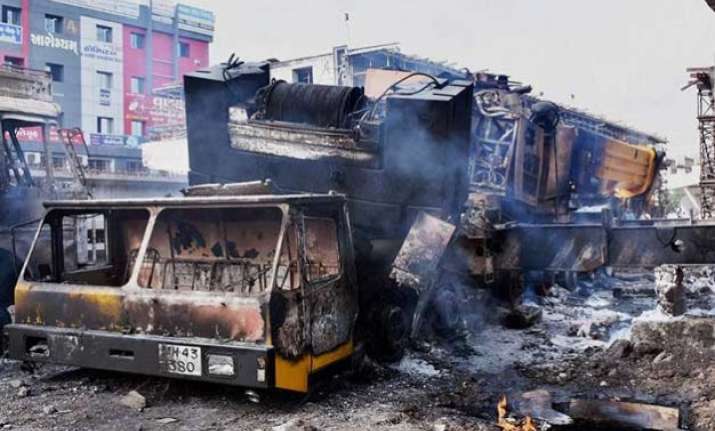 Ahmedabad:  Army was called in today to help control widespread violence sparked by quota agitation by Patel community in Gujarat which has claimed five lives even as curfew was clamped in major cities and towns in the state.  
Notwithstanding appeal to people by Prime Minister Narendra Modi for maintenance of peace, police said Patel community members resorted to arson, stone pelting and vandalising public as well as private properties. Curfew has been clamped in Ahmedabad, Surat, Rajkot, Mehasana, Patan, Palanpur, Unjha, Visnagar and Jamnagar.
Mumbai: In a major twist to the Sheena Bora murder case, it has now been revealed that the deceased, who was allegedly murdered by Indrani, was her daughter.
43-year-old Indrani was arrested yesterday from her Mumbai residence after her driver confessed that he had killed Sheena in 2012 following his employer's orders.
Patna: Chief Minister Nitish Kumar has described the Rs. 1.25 lakh crore packages announced by Prime Minister Narendra Modi for Bihar as a packaged propaganda and a repackaging of old schemes and ongoing projects announced in the past.
In a series of tweets on Wednesday, Nitish alleged that Rs. 1.08 lakh crore out of Rs. 1.25 lakh crore is a mere repackaging & appropriation of old schemes, & ongoing projects announced in the past.
New Delhi: A final solution to the 'One Rank One Pension' row remained out of reach despite hectic back channel talks, as the protesting ex-servicemen today rejected government's formula saying an attempt was being made to "short change" them.
"Government is hell bent on short changing. There are only three points of contention," a source here said.
Moneta, Virginia:  Two journalists were shot dead during a live TV report in the US state of Virginia, their employer confirmed, media reported on Wednesday.
WDBJ7 TV reporter Alison Parker, 24, and cameraman Adam Ward, 27, were killed while an interview was being aired in Moneta, Bedford County early Wednesday, the CNN-affiliate WDBJ TV station said.