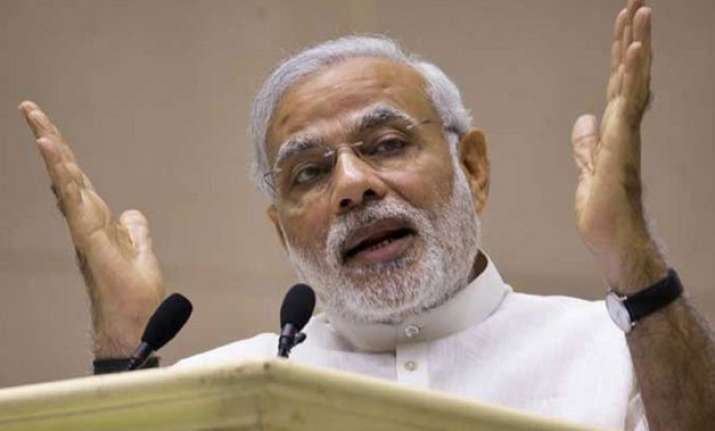 1. Labour law: PM Modi to inaugurate ILC meet
New Delhi:
Prime Minister Narendra Modi will today inaugurate the two-day long 46th Indian Labour Conference and dedicate the National Career Service (NCS) portal to the nation and launch health reforms of the Employees' State Insurance Corporation of India (ESIC) on the occasion.
Amid strong opposition by trade unions against certain proposed amendments to labour laws, the conference is likely to witness a stormy session on these issues.
2. Modi to chair meeting of BJP parliamentary party executive
New Delhi: Prime Minister Narendra Modi will today chair a meeting of BJP parliamentary party executive as the government and the ruling party firm up their strategy for the monsoon session of parliament, which is set to be stormy over the opposition demand for the resignation of many party leaders.
3. PM to chair integral meeting with constituents of NDA alliance
New Delhi: Prime Minister Narendra Modi has called the first meeting of constituents parties of NDA alliance play down the opposition's attack on Vyapam scam, Lalit Modi case and other issues.
This meeting before the monsoon session will see the NDA strategizing to face the opposition in the parliament.  
4. Vyapam issue may rock MP Assembly's monsoon session
Bhopal: The Madhya Pradesh Assembly is likely to witness a stormy monsoon session beginning today with Congress planning to raise the Vyapam scam and corner the government while the latter gearing up to highlight that it played a vital role for a CBI probe into the scandal.
5. Anand Parbat case: Kejriwal to meet Bassi
New Delhi: Chief Minister Arvind Kejriwal has asked the Delhi Police Commissioner B S Bassi to meet him to discuss law and order situation in the national capital, in the wake of the gruesome murder of 19-year-old girl in central Delhi.
6. SC to hear CBI plea in Vyapam case
New Delhi: The Supreme Court is scheduled to hear the plea of CBI that Special Investigation Team (SIT) be allowed to file charge sheets in the Vyapam scam cases in which the investigation is over.
7. Left parties to hold protest over corruption issue
Jaipur: Left parties will today hold countrywide protests against the alleged corruption in BJP- ruled Centre and states, demanding action against the "tainted" chief ministers and ministers.
"Left parties have decided to organise countrywide strong protests on July 20, a day before the Parliament session begins, against corruption and we will demand action against the tainted chief ministers and ministers of BJP," CPI National Secretary D Raja said here.
8. Surplus spectrum: Order on jurisdiction of 2G court
New Delhi: A special court will today pronounce its order on pleas filed by two telecom firms, charge sheeted along with others in the 2002 additional spectrum allocation case, challenging its jurisdiction to deal with the matter.
Special CBI Judge O P Saini, who had on July 6 reserved order on the issue and said it would deliver it on July 20.
9. Delhi High Court to hear plea against AAP govt's latest ad campaign
New Delhi: The Delhi High Court will today hear a plea against the AAP government for allegedly violating Supreme Court guidelines by bringing out advertisements "glorifying" Chief Minister Arvind Kejriwal.
Justice V P Vaish said he needed to hear the issue properly, so that he could pass a detailed order on the plea filed by NGO Nyayaa Path, which also sought direction to the city government to immediately withdraw a recent television advertisement and "restrain itself from such type of image building exercise of Arvind Kejriwal".
"Re-notify the matter for further hearing on July 20," the court said.
10. Hit and Runs Case: Bombay HC to hear Salman Khan's plea
New Delhi: The Bombay High Court will today hear the plea of actor Salman Khan against five year imprisonment in the famous hit & run case.
A session's court in Mumbai had announced five year imprisonment for the actor, who later filed a plea in High Court to dismiss the lower court's verdict.
11. Haryana petrol dealers to go an indefinite strike
Karnal: The All Haryana petrol pump dealers association will go on an indefinite strike starting from toady against the non-fulfillment of their demands by the state government.
12. DU to greet fresh batch as it rolls out CBCS
New Delhi: Delhi University has put in place strict measures to check ragging on its campuses as it welcomes a fresh batch of undergraduate students today who will be the first to study as per the new Choice Based Credit System.