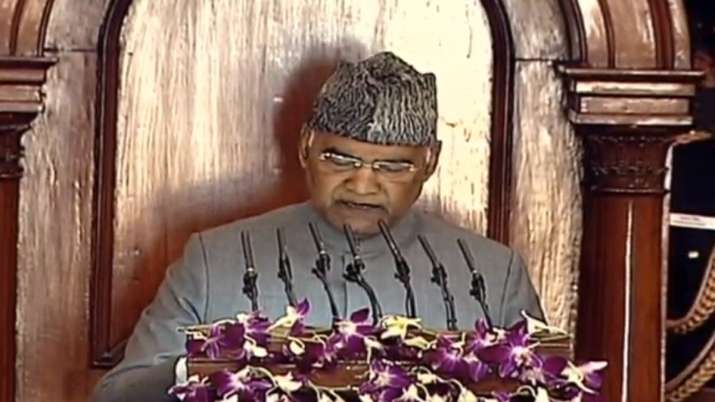 The Budget Session of Parliament began on Friday and all eyes are on the Economic Survey for 2019-2020 which the government will release today. President Ram Nath Kovind addressed the joint session of Parliament a day before the tabling of the budget. The government will present the Union Budget 2020-2021 on Saturday. The first phase of the session will conclude on February 11, while the second part of the session will begin from March 2 and end on April. 
Top 10 highlights from President Ram Nath Kovind's address in the Parliament: 
Our constitution expects from this Parliament and every member present in this House to fulfill the hopes and aspirations of the countrymen and make necessary laws for them, keeping national interest paramount.
My government is clearly of the view that mutual discussions and debates further strengthen democracy. At the same time, any kind of violence in the name of protest weakens the society and the country.
The abrogation of Article 370 and Article 35A of the Constitution through two-thirds majority by both the Houses of Parliament is not only historic but it has also paved the way for equal development of Jammu and Kashmir and Ladakh
My government built the Kartarpur Sahib Corridor in record time, dedicated it to the nation on the occasion of 550th Prakash Parv of Guru Nanak Dev Ji. 
On the special request of my government, Saudi Arabia increased Haj quota unprecedentedly, due to which a record 2 lakh Indian Muslims performed Haj this time. India is the first country where the entire process of Haj was done digitally and online.
This Parliament has established a new record of work -- triple talaq bill, consumer protection bill, chit fund amendment law, motor vehicle act, transgender right protection bill are major achievements of this government.
Mahatma Gandhi had said that Hindus who do not want to live in Pakistan can come to India, my government fulfilled Bapu's wish by implementing citizenship law...We condemn the prosecution of minorities in Pakistan. We are open for citizenship to all, who are ready to follow the due legal process and guidelines.
President Kovind says under Make in India, the government is focusing on the Railways also. "Tejas and Vande Bharat trains are just another feathers in the cap. People should focus on buying local and made in India products.
President Kovind said the government is committed to achieving the target of $5 trillion economy. "Forex reserve is at a record high and FDI has also increased."
My government has helped make a significant headway in digitising the economy. Bank accounts and digital initiatives have ensured that there is no pilferage and the money reaches those who it is meant to reach directly. This has saved over 1,70,000 crore from going into the wrong hands last year.