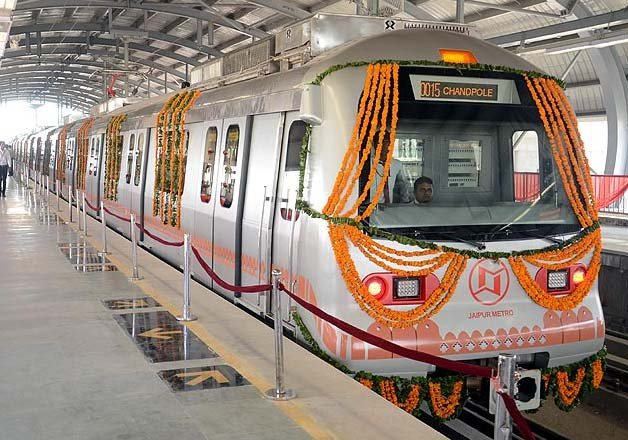 Jaipur has now joined the metro rail network club of India that included Delhi-NCR, Bengaluru, Mumbai and Kolkata.
For the first 3 months, trains will operate at a frequency of 10-15 minutes from 6.45 a.m. to 9 p.m. every day.
Here India TV is presenting 10 facts that you must know about Jaipur Metro:
Phase 1A, named the 'Pink Line', of the Jaipur Metro Rail Project comprised nine stations -- Mansarovar, New Atish Market, Vivek Vihar, Shyam Nagar, Ramnagar, Civil Lines, Railway Station, Sindhi Camp and Chandapole -- covering a distance of 9.63 km.
The work in the first phase was divided into two parts -- Phase-1A and Phase-1B. The first phase, costing over Rs 2,000 crore completed in around four years and three months. It is also the fastest project implementations in the metro sector.
Jaipur Metro is set to become a good example of multi-modal integration, as it also connects ing the railway station and the inter-state bus terminal.
The Jaipur Metro Rail Corporation (JMRC) has introduced an innovative fare structure meaning fares for peak and off-peak hours. Fares have been fixed in multiples of Rs 5 and a flat discount of Rs 5 has been offered for off-peak hours. As an introductory offer, for the first six months, off-peak fares will be charged throughout the whole business day.
Automatic fare collection system has been installed in all stations. Up to 15 percent discount has been offered on Smart Cards. These can be recharged using the website of Jaipur Metro or the Ticket Vending Machines.
Two types of Tourist Cards, One-day Tour Card and Three-day Tour Card, have been introduced, which can be used for unlimited number of trips during the day(s) of their validity.
Provision has been made for free drinking water at all the Metro stations.
Up to 30 per cent of operation and maintenance employees, including Metro operators and station controllers, are women.
The project is fully funded by the state government and its agencies, namely, Jaipur Development Authority, Rajasthan Housing Board and Rajasthan State Industrial Development and Investment Corporation Ltd.
A total of 789 police personnel have been sanctioned for security and policing of Jaipur Metro. Latest security equipments have been provided at all Metro Stations.