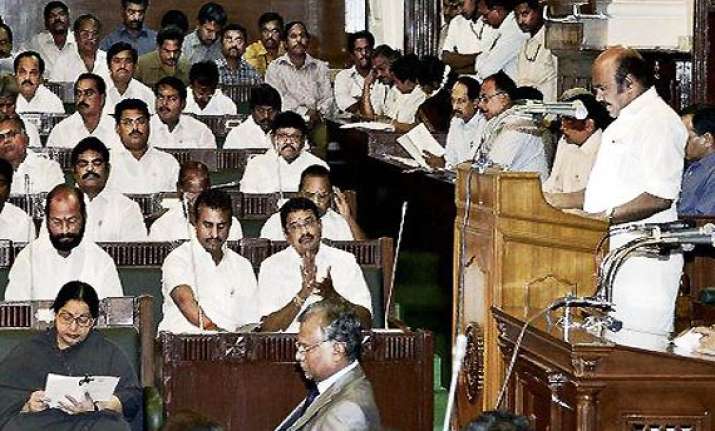 Chennai, Dec 15: Tamil Nadu Assembly today passed a unanimous resolution stating that under no circumstances would the state give up its rights over the Mullaperiyar Dam as Chief Minister Jayalalithaa accused Kerala of adopting 'deceiving' tactics on the issue.

A one-day special Assembly session convened in the midst of the heightened tensions between the two states on the dam issue passed the resolution reasserting the state's right over the 116-year old dam which Kerala wants to be demolished to build a new one on safety concerns.

The resolution moved by Jayalalithaa also pressed for deployment of Central Industrial Security Force to protect the dam in view of the 'tense' situation in both the states. 

"This House resolves that under no circumstance will Tamil Nadu give up its rights (over the dam)," said the resolution.

It also asked Kerala to make suitable amendments to the Kerala Irrigation and Water Conservation (Amendment) Act, 2006 to increase the water level to 142 feet as allowed by the Supreme Court and not to obstruct Tamil Nadu from carrying out further strengthening works so as to rise the level to 152 feet in the long term.

Giving a new twist to the row, Jayalalithaa said Kerala was insisting on a new dam in order to generate more hydro-power from the Idukki Dam and termed as 'deceiving tactics' the neighbouring state's claim that Tamil Nadu would continue to get the same quantum of water as at present. 

"Kerala government had planned to generate 780 mw of power from Idukki reservoir. If there is no Mullaperiyar Dam, its entire water will reach Idukki, allowing power generation.  There are doubts that this is the reason for Kerala government's mischievous propaganda that the Mullaperiyar Dam is weak," she said in her concluding remarks.