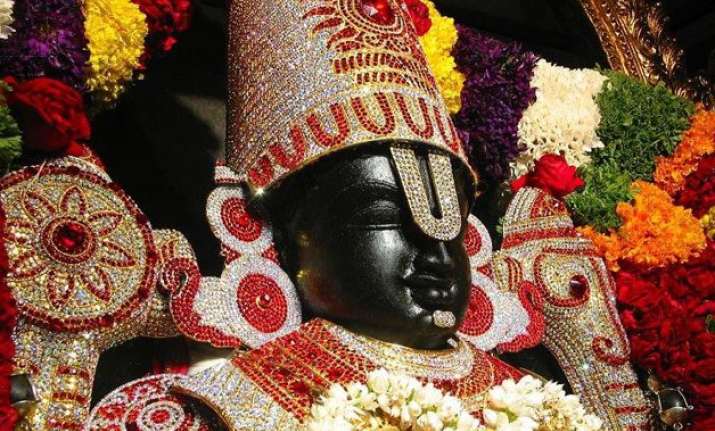 New Delhi: Delhiites will have an opportunity to witness and seek the blessings of Lord Balaji as the Tirumala Tirupati Devasthanams (TTD) is set to organise a Sri Venkateswara Vaibhavotsavam here from October 31.
TTD, which manages the Lord Balaji temple in Tirumala and other associated shrines, is set to offer a unique opportunity to people in the national capital of witnessing and participating in all the sacred rituals and special poojas performed at the Lord Balaji temple over a period of nine days from October 31, 2015.
The 'Sri Venkateswara Vaibhotsavam' will be held at Jawaharlal Nehru Stadium here and continue till November 8 after commencing with a detailed exposition of the significance of the nine-day-long event.
Briefing the media after releasing a poster of the nine- day event, Urban Development Minister Venkaiah Naidu said, "It is not possible for common man to witness the daily rituals and special services at Lord Balaji temple at Tirumala.
"Replicating such sacred services at a specially-built Balaji Temple in New Delhi is a unique opportunity for the people of Delhi to witness the same."
The inaugural programme will be attended by former Deputy Prime Minister and senior BJP leader, LK Advani.
The event is being sponsored by Nellore-based Swarna Bharat Trust and GMR Group. The trust is headed by Deepa Venkat, Naidu's daughter.
Announcing the Vaibhotsavam, Naidu further said, "Spiritualism helps in maintaining peace and personal composure in the midst of stressful materialistic living. The world is looking at India for spiritual solace. The nine-day event in Delhi is one such opportunity."
Deepa Venkat said on the occasion that such an event recently organised in Nellore in Andhra Pradesh was attended by lakhs of devotees and it is the first time that TTD is organising this sort of replication of sacred rituals and services to Lord Balaji in the national capital.
The daily rituals to be performed are Suprabhatam, Tomala Seva, Archana, Nivedana and Vishesha Pooja from 6.45 AM to 10.15 AM.
Veedhotsavam (taking out of the Lord in a procession) will also be organised daily in the evening.
Special services to be performed are Sudarshana Homam, Vasantotsavam, Ashtadasa Pada Padmaradhana, Sahasra kalasabhishekham, Tiruppavada, Abhishekam, Sriniavasa Kalyanam and Pushpa Yagam. These services will be performed once a day in that order.
Prasadam will be made available to all devotees while TTD publications and souvenirs besides calendars and dairies will be available for purchase. There will be also cultural programme during the Vaibhotsavam.