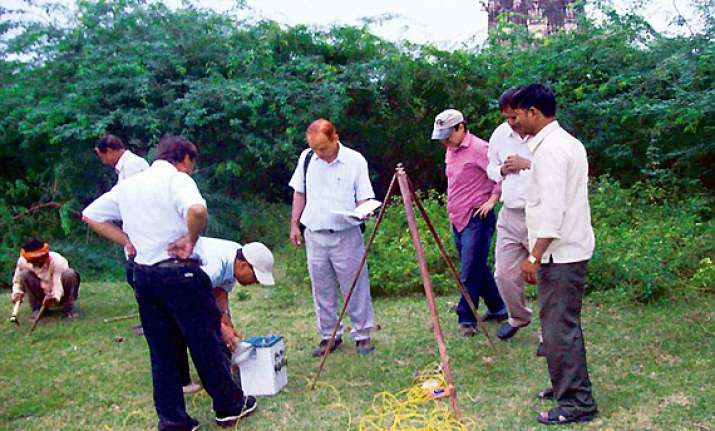 New Delhi: Here is a timeline of how the treasure hunt began at Daundia Kheda near Unnao, Uttar Pradesh, where a sadhu has predicted 1000 tonnes of gold buried beneath an old fort.
October 2 - Archaeological Survey of India and Geological Survey of India teams decide to visit. Local SDM and police station officer survey the Daudia Kheda fort, meet the sadhu Shobhan Sarkar.
Oct 3 - Both ASI and GSI teams reach Baksar, meet sadhu Shobhan Sarkar, surveyed the fort premises.
Oct 4 - Teams again surveyed the fort premises. Bhoomi Poojan begins in the presence of sadhu Shobhan Sarkar.
Oct 5 - GSI uprade team and Union minister of state for Agriculture and Food processing Charandas Mahant were to come, but did not reach.
Oct 6- MoS Charandas Mahant did not come. On sadhu's order, the local village pradhan prepared a memorandum of demands.
Oct 7- SP Unnao Sonia Singh reaches Baksar. At 6 pm, Union MoS Charandas Mahant reached sadhu's ashram, met Shobhan Sarkar.
Oct 8 - Both GSI and ASI teams did not reach Baksar, but crowds begin to gather.
Oct 9 - The block pramukhof Bighapur hands over a resolution offering 116 bighas land for setting up food processing industry to Swami Omji, disciple of sadhu Shobhan Sarkar.
Oct 10- ASI team surveys the area, tells Shobhan Sarkar, excavation will begin from Oct 18.
Oct 11- Shobhan Sarkar's disciple Swami Omji meets state government officials in Lucknow, discusses preparations for ASI excavation.
Oct 12- Huge crowds gather in Daundia Kheda.
Oct 13- ASI team pitches tent at the fort. Rajya Sabha member Brajesh Pathak visits fort.
Oct 14- The family members of Rao Ram Baksh Singh reach Daundia Kheda.
Oct 15- Number of labourers increased in Daundia Kheda. Cleaning of entire area begins.
Oct 16- ASI team seeks more security in view of huge crowds gathering in the area/
Oct 17 - ASI team begins measurements and prepares for excavation.
Oct 18 - ASI starts excavation at three points.