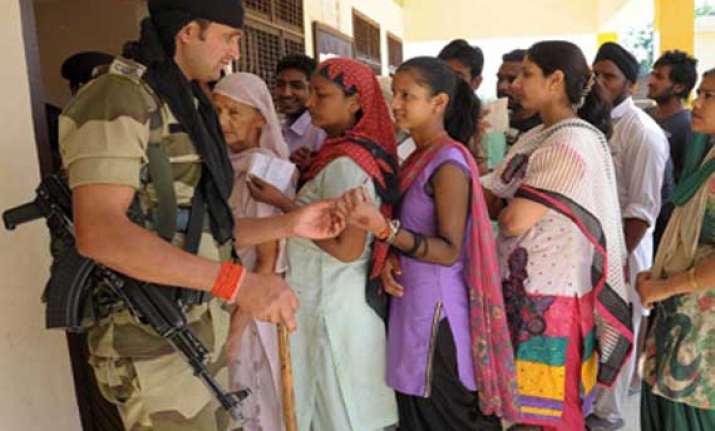 Lucknow: Tight security arrangements have been made for the last phase of polling tomorrow as more than 7,000 polling stations in the 18 seats, including Varanasi and Azamgarh from where Narendra Modi and Mulayam Singh Yadav are contesting respectively, have been identified as critical by the Election Commission.
Refusing to divulge details of deployment of forces, UP Chief Electoral Officer Umesh Sinha said 38 general observers, 18 expenses and two police observers, three awareness observers and 4,594 micro-level observers have been deployed to ensure free and fair polling.
As many as 44 assistant observers and 44 assistant police observers have also been deployed, of which maximum chunk has been stationed in Azamgarh and Varanasi.  The last phase of Lok Sabha polls will also cover three naxal-affected districts of Mirzapur, Sonbhadra and Chandauli, for which state police have made special arrangements.  
"There is a total of 31,482 polling booths, of which 7,228 have been declared critical, in this round... As many as 62,415 licenced weapons and 85,679 litres of illicit liquor have been seized, and Rs 1.99 crore in cash confiscated in the run up to the polls," Sinha said.
The 18 seats spread over 14 districts of Eastern Uttar Pradesh saw voting percentage of 46.55 in the 2009 general elections, while in the 2012 Assembly polls it went up to 56.28 per cent, he said.
"At 625 polling booths, arrangements for webcasting of proceedings have been made," he said.
Gorakhpur is the largest constituency with about 19.03 lakh voters, while naxal-affected Robertsganj is the smallest with 16.38 lakh electorate.