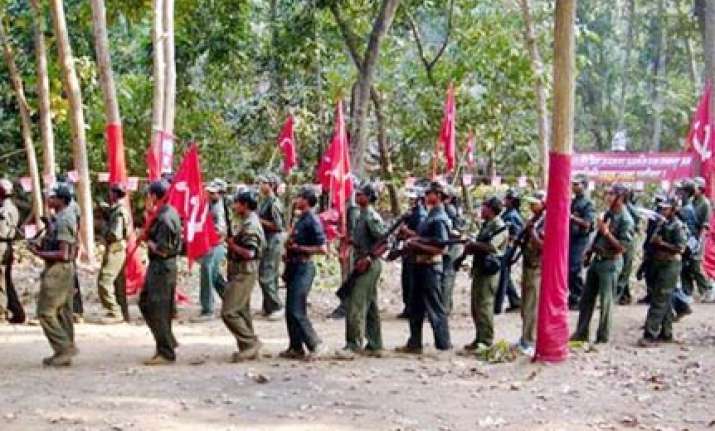 The India Express has reported tension in Maoist ranks between its leadership in Andhra Pradesh, drawn mainly from the former People's War (PW) and the one in West Bengal, Orissa and Jharkhand, from the ex-Maoist Communist Centre of India (MCCI).  
Clashes have also broken out over class and caste and each group accuses the other of "autocratic" decisions and even blowing the cover to help security forces.
PW and the MCCI merged in September 2004 to form the CPI (Maoist) and for the first time it's been wracked by sharp differences between the two.  
What has added a twist is that most Maoist leaders caught — or killed — in operations recently belong to the ex-MCCI prompting its members to accuse ex-PW leaders of exposing them.
In fact, seven senior leaders have been arrested in recent months after police received tip-offs from within. And as damage control, a rattled CPI (Maoist) Politburo issued an order early this week to all its Central Committee (CC) members to break mass contact, return to the forests and clamp down on communication with frontal organizations based in cities and towns.
With the loss of important leaders, the Central Committee is now down to 26 from 34. Of the 26, 14 are from Andhra and under fire.
"In three or four meetings held recently, leaders from Andhra found themselves driven to the wall. Of the 26 CC members, 14 are from Andhra. When these leaders try to dictate policy or pass instructions to states, they are being questioned and taunted by leaders of respective states: you have lost and run away from your own state so don't tell us what to do. Andhra leaders are increasingly finding themselves defending their positions rather than leading," an official said.
Some important leaders, formerly with the MCCI, who have either been arrested in recent months include Amitava Bagchi (politburo member, Central Committee member and member of Central Military Commission); Kobad Ghandhi, Balraj, Chintanda, Dr Pankaj, Himadri Sen Roy alias Somen and Venkateshwara Reddy (Kishanji's aide).
Patel Sudhakar Reddy (Chief of Military) belonging to PW was shot dead while N Ravi Sarma also of the PW was arrested from Jharkhand. At a recent meeting, Mallojula Koteshwara Rao alias Kishenji who grew from PW ranks, while receiving praise for his role in Lalgarh, was warned for using his cell phone too frequently endangering his as well as the lives of those around him," an Intelligence officer said.
Sabyasachi Panda alias Suman (Orissa state committee member), and leaders from West Bengal like Sandip Chanda alias Kanchan (State Secretary of West Bengal) have positioned themselves against Andhra leaders. In fact, Venkateshwara Reddy alias Telugu Dipak was to be appointed as West Bengal state secretary instead of Sandip Chanda but since he is from Andhra there was stiff opposition.
West Bengal leaders accused Andhra leaders of having State Secretary Himadri Sen Roy alias Somen arrested by giving a tip-off to make way for Telugu Dipak but it backfired.
Andhra leaders are also being accused of jeopardizing the "movement" by offering to talk with the Centre at a time when the Maoists were trying to consolidate their position in five states.
Class plays a major role in PW ideology while caste rules MCCI. "While PW cadres insist that the fight should be on behalf of the poor man, MCCI cadres are siding with lower castes against upper castes and are often found to be pitting one caste against the other. This has spread discontent, too," an official said.