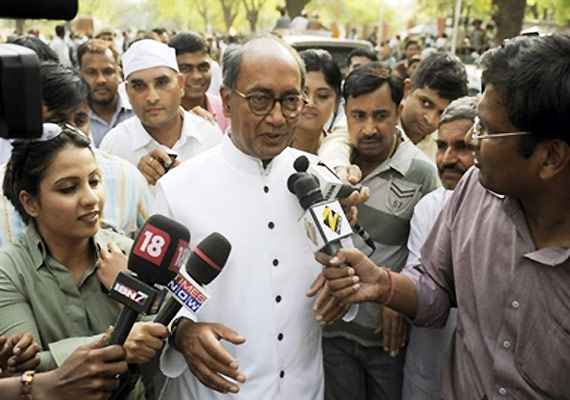 Bhopal, Mar 27: In the backdrop of Team Anna's barbs against MPs, Congress leader Digvijay Singh today accused team members of trying to become "power brokers" with no faith in democracy.
"I feel that members of Team Anna do not have any faith in democracy and yet they want to become power brokers without going through elections," Singh told reporters at his residence here.
He further said that most members of the team had "dubious credentials and lacked moral authority".  
"It was because of all this that the team (Anna) members were abusing Parliament and parliamentarians," he said.  
The Congress general secretary also said that it had become "apparent" that Team Anna members had absolutely no faith either in democracy or democratic institutions.  
"One of the team members, Arvind Kejriwal had during his service flouted rules with total impunity. Similarly, another team member Kiran Bedi had used concessional tickets to fly Indian Airlines and when this happened she was not worried about morality or any other such thing," Singh claimed.  
Sharpening his attack further, the senior Congress leader said, "The BJP became disenchanted with Anna Hazare the day he refused to take support of RSS".
"In my view, BJP is a party having at least three faces.  The party had one face when it is in power, another when in opposition...but in reality it is a truly commercial party in all ways," he charged.
On the murder of IPS officer Narendra Kumar Singh, the former chief minister said that the law and order in the state has totally "collapsed" and the ruling BJP has been unable to do anything to improve the situation.
Taking a dig, Singh said that the chief minister Shivraj Singh Chouhan was fond of talking all the time about the 'Ladli Laxmi Yojana' but the number of malnourished children is going up in the state.
"When I was chief minister, malnutrition was under control and the fact that it was going up now showed that the Yojana had failed totally," he said.
When asked about the Army Chief General V K Singh's allegations that an offer of Rs 14 crore bribe was made to him, Singh said that the general should have filed a FIR in this regard.
"Since a CBI enquiry has been ordered into the matter, I do not want to say anything further on it," he said.  
When told that pictures of former prime minister Atal Bihari Vajpayee would be displayed in all government schools in Madhya Pradesh, he said: "I have no objection if Vajpayee's picture is displayed along with other great leaders".