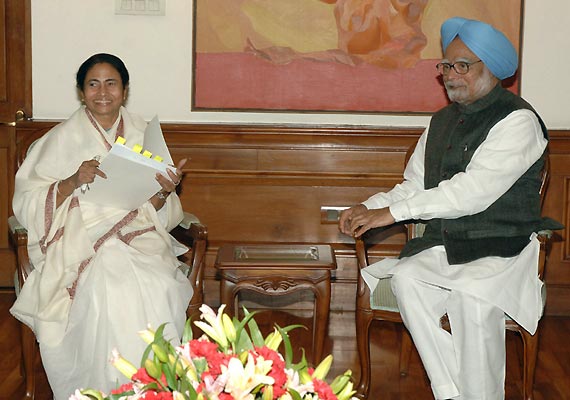 New Delhi, Mar 19: Trinamool Congress Chief Mamata Banerjee today met Prime Minister Manmohan Singh at his Parliament House office to convey her reservations over the setting up of the National Counter Terrorism Centre (NCTC) and on other issues.
"The meeting was good," Banerjee told reporters after meeting the Prime Minister along with Union Ministers and her party colleagues Sudip Bandyopadhyay and Mukul Roy, who is Trinamool Congress's nominee for the post of Railway Minister following the resignation of Dinesh Trivedi.
Her meeting with the Prime Minister comes ahead of the Trinamool Congress Parliamentary Party meeting here.
Banerjee, who forced Trivedi to quit as the Railway Minister after he proposed hike in the passenger fares in the railway budget, also described the NCTC as worse than TADA and POTA.
The West Bengal Chief Minister wanted modification in rail fares so that common people did not get affected. She has also stated that "there is no question of voting" in favour of the NCTC.
Singh has made a strong pitch for the NCTC saying it was an important step to fight against terrorism.