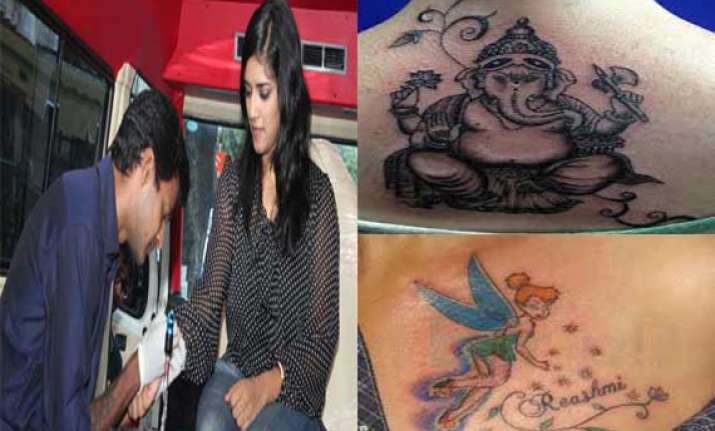 Chennai: The art of tattooing is an ancient practice which prevailed among human society for different reasons. According to a Chinese proverb, "There are only two kinds of people in this World. One has a tattoo and then are the rest".
Various designs pertaining to various tribes which would resemble nature, Gods and Super natural beings are portrayed with extremely fine art work in a tattoo.
In Chennai, exist a Tattoo parlor called Irezumi and we had a chance to meet with Ravi, a chef by profession who got himself a close sleeve tattoo in a Ta moko style of the Maoris of New Zealand.  He said that he spent a while in New Zealand on an educational tour and to commemorate it along, he had the tattoo done.
For Maoris, Sun, Geckos and Turtles were of high significance, which he had engraved over his shoulders as a tattoo. Navin, the owner of Irezumi mentioned that some tribes across the world even believed that a person with no tattoo was invisible to God.
He said that no exact significance can be given to the term tattoo as it finds a unique meaning to an individual who has decided to bare it in his body. The only thing you should bear in mind is that you would be carrying it all your life and so not get a tattoo which you might regret later.
Customers
His customers ranged from the age of 18 to 65 who were a combination of college goers to doctors and engineers. The shop was opened in 2008 and to date they have served nearly 10,000 customers.
Navin was trained in a tattoo school in Thailand and bares a certificate to authenticate it. Various tattoo artists have trained in his parlour and now manage their own tattoo center. In Chennai alone there are close to 200 tattoo artists and many have been trained by him.
 Tattoo Charges
Irezumi charges a minimum of 2000 rupees for a tattoo for which he says," there are people who are happy to get a tattoo done for 50 rupees on a roadside and are satisfied and then there are people who are specific with what design they want and are ready to pay for quality craftsman work".
Precautions
Navin says tattooing is not just a process of piercing the skin with ink to get a design out of it but it is an art and that's what calculates the cost quotient. Further, hygiene is very important as well, like he mentioned the various sanitary precautions of high medical standards which are maintained at Irezumi.
Navin did not fail to mention that he gives a word of advice to people who seem to be immature with their decision while arriving to get a tattoo done so that they don't have to go through the much painful process of tattoo removing.
"I generally advise people not to get their partners names done as tattoos since through my experience I've seen them come back to our parlor to get it removed in due time. And I don't recommend anyone to get a tattoo in a drunken state".
We did have a chance to meet Sundar, an Engineer who is a also Cyclist which is very well seen on his physique for he don't look like a 65 year old person he seems to mentioned.
 "I'm a professional cyclist and in our community tattooing is of a fashion statement. So I decided to get one for myself. And I opted to go for religious symbols than a contemporary design. But recently I've seen wide dislike from my surroundings for the designs. I have which made me to remove them now. And the only thing I can say is that this process hurts more than someone getting rejected in love", he said concluding with an experienced smile.
How to Remove Tattoo
About the process of removing a tattoo, Navin explained that two techniques are followed which are skin grafting and removing a tattoo using laser. Skin grafting is a very costly procsess and so people opt for laser treatment which is very painful but less painful on one's wallet.
Using laser skin baring the inks is burnt which actually breaks the ink patch into small pieces which with time is expelled out of the skin as the wound heals. The process consumes time and to remove a tattoo it takes close to 4 months.
For centuries, tattoos have been a way to carry an emotion of great significance through one's lifetime on his body. The significance would differ but the unexplainable mystic feel while baring a tattoo can only be explained by getting one.