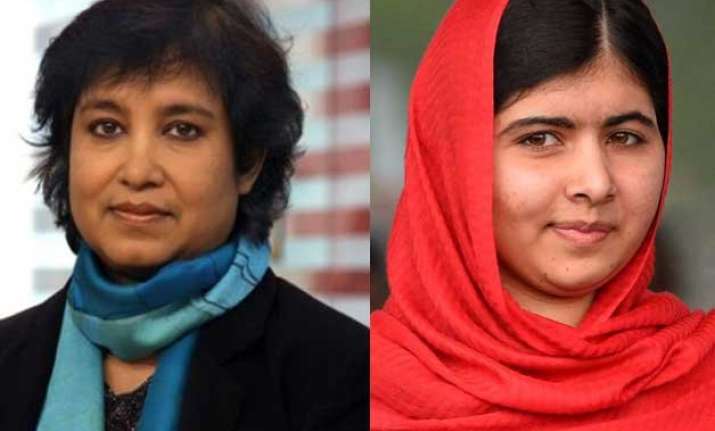 New Delhi: Bengali writer Taslima Nasreen, who describes herself as an atheist and secular humanist, has hit out at the West for its double standards towards Islam.
"If you criticize Islam,you're in trouble. Islamists will kill you. Muslim governments will imprison you. Liberal West will stay away from you", Taslima tweeted.
"The West loves pro-Islam 'moderate Muslims'. The West does not like anti-Islam atheists.
"If you criticize Islam, you will suffer everywhere,in the West,in the East,in the North,in the South. You will be abondonned (sic), and isolated", tweeted the Bengali writer.
Mentioning Nobel Peace Prize winner Malala Yousufzai of Pakistan, Tasleema tweeted: "Malala is loved in the West, bcz she says,'Islam is good, Islamism is bad.' Taslima is ignored bcz she says.'no diff btwn Islam & Islamism'.
"Idiots belive if u criticize Islam,u'll get benefits from West.Big lie.West will love u if u say 'islam is good,Islamiic fanaticism is bad'", tweeted Taslima.
Simultaenously, writing in Bengali on her Facebook account, Taslima echoed similar thoughts.
Wrote Taslima: "Most of the people think, if you criticize Islam, the West will reward you. Such idiots live in a world of their own making. The truth is: if you criticize Islam, you won't stay in peace, anywhere. Muslim terrorists may execute you, fundamentalists may declare reward on your head, Muslim govts may throw you behind bars, and Europe and America will ignore you.
"You will then become utterly alone. Alone. Cornered. A handful of desperate atheists may or may not enquire about you.
"Only those get respect, get bouquets in the West, who say, Islamic fundamentalists are bad, but Islam is good. Those who say, Islam is not what the fundamentalists or terrorists think. Those who say, the definition of Koran by fundamentalists or terrorists is wrong.
"That is why, in the West, Malala is lionized, because Malala says "Islamic fundamentalism is bad, Islam is not".
"That's why in the West, Taslima is a zero, because Taslima says 'there is no difference between Islam and Islamic fundamentalism'.
"The West loves 'moderate Muslims', it does not like anti-Islamic atheists at all. It tries to stay away from such atheists. The West thinks, changes in Islam must come from within, as in all other religions. The West thinks, atheists shouting hoarse against Islam from outside will not help, it will rather damage.
"That is why, we the atheist offsprings of Muslim families, are in the blacklist of the West. There is no interest at all about us among politicians, philosophers, thinkers, intellectuals, social scientists, sociologists, Orientalists and theologists.
"And those idiots who live in a world of make-believe, will continue to say that those writing against Islam get rewards from the West. Why should the West be bothered about rewarding anti-Islamists and invite trouble.  Nobody wants to live a life with risks forever. Actually, the truth is, you get rewarded if you praise Islam", wrote Taslima in her Facebook account.