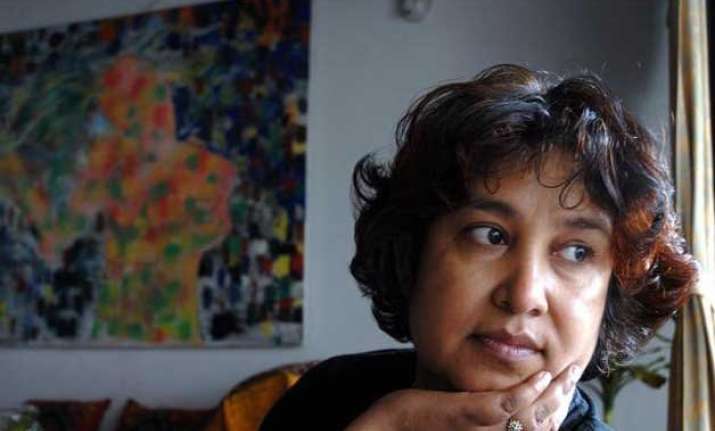 New Delhi: Bangladeshi author Taslima Nasreen has sought an immediate meeting with Home Minister Rajnath Singh, saying she was getting constant threats from a Bangladesh jihadi group, in the backdrop of three secular bloggers being hacked to death by jihadis in that country.
"My free thinker friends are getting killed in Bangladesh. Terrorists who killed them threatening me. Wanted to meet HM, no appointment I got", tweeted Taslima, who is presently staying in exile in India.
The Bengali writer retweeted a threat she received on Twitter from @jihadforkhilafa, which said "u r also among the 84 who r on the hitlist. count ur days ;)"
Followers of the writer tweeted back at her saying, she should take the threats seriously and act upon them, since recent events were heartbreaking.
The oneofthemuslims@jihadforkhilafa  retweeted a tweet from Ansal Al-Islam@Ansar_BD, which said: "We DON'T forget and InshaAllah We will NOT forget others. Next target is Loading... Stay tuned!!"
The tweet included pics of the four secular bloggers killed in Bangladesh in recent months.
Bloggers Washiqur Rahman, Avijit Roy, Ananta Bijoy Das, Bengali poet Shamsur Rahman, writer and intellectual Humayun Azad, two other bloggers Asif Mohiuddin and Rajib Haider were also victims of attacks by Islamists in Bangladesh.