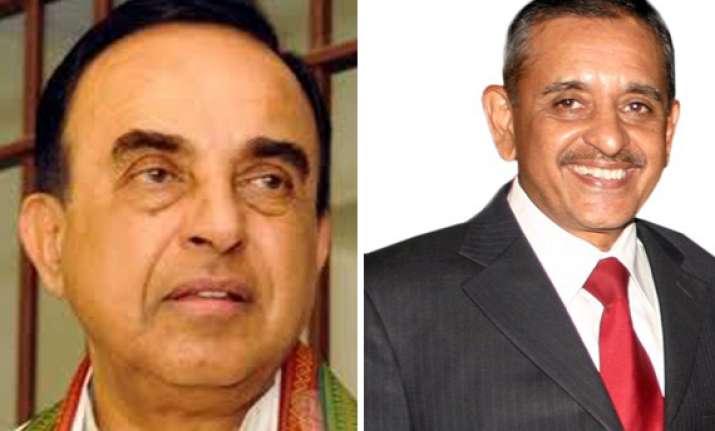 New Delhi, Nov 28: Janata Party President Subramanian Swamy today met CBI Director and demanded registration of cases against Indians who have allegedly stashed away money in foreign banks. 

Swamy, who heads Action Committee Against Corruption in India (ACACI), met Director A P Singh in the morning here with his complaint, demanding registration of cases. 

Singh assured him that his complaint would be "examined" and action would be taken if it came under CBI's domain.

"Subramanian Swamy had requested a meeting with Director, CBI today. He handed over a complaint regarding alleged illegal bank accounts of Indians abroad.

The Director told him this will be examined and acted upon if CBI has jurisdiction," CBI spokesperson Dharini Mishra said. 

Swamy told reporters after the meeting that the CBI Director has given an assurance that the agency will take a decision on his complaint within a fortnight. 

Recently, the Central Board of Direct Taxes had given a list of 18 individuals, received from German authorities, to CBI to ascertain if they have any pending cases with it.  CBI, in its reply, had informed CBDT that except one individual, none of the rest 17, whose names have been provided to it, had any case against them.

The agency said a preliminary inquiry was intitiated in 1999 against one of the individuals mentioned in the list and it was closed for the want of evidence. 

The government has imposed a penalty of Rs 24.66 crore on these 18 individuals who have bank accounts with Liechtenstein's LGT Bank on the basis of information provided by the German authorities.