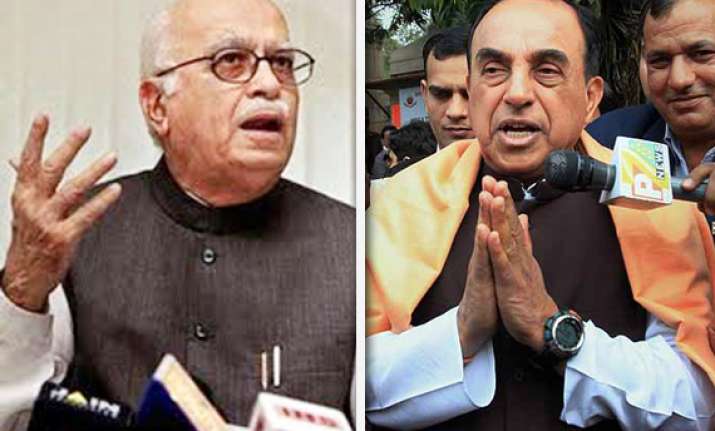 New Delhi, Feb 8: Hailing the Supreme Court verdict in 2G case, L K Advani today said Janata Party chief Dr Subramanian Swamy appears to be the Man of the Series.  

In his latest blog, Advani wrote that in cricket analogy if the 2G Spectrum scam series were to be regarded as a match series, "obviously crusader Subramaniam Swamy has to be acknowledged as Man of the Series".

Advani wondered if former telecom minister A Raja could be the sole "villain" and said no one can beat the UPA government, which is "actually run" by Sonia Gandhi, in its "stinking record" in scams.

"The key question the judiciary has now to decide is: Is A Raja, the former Telecom Minister, the solitary villain of the piece, and the only person responsible for these fraudulent transactions?" the BJP leader said in his latest blog.

Listing the various scams, Advani said, "If a comprehensive history of corruption scandals in independent India were to be written, I have no doubt that both in respect of the number of these scams as well as in terms of their financial dimensions and/or their gravity, no earlier government can outbeat the stinking record of the UPA government."

The scams listed by the BJP leader are Cash-for-vote scam, 2G scam cases, Commonwealth Games scandal, Ottavio Quattrochi case (Bofors deal pay-off), Adarsh Housing Case, appointment of P J Thomas as CVC, "abysmal failure" to get back Indian black money stashed abroad, continuing massive illegal immigration from Bangladesh, Telgi Stamp Paper Case and Hasan Ali's alleged tax evasion.

He also sought to hold Gandhi responsible for the mess saying she is the one controlling the reins.

"This government is headed formally by Manmohan Singh, but by now there is no doubt in any one's mind that this government is actually run by UPA Chairman (sic) Sonia Gandhi...," Advani said.

Advani said the Supreme Court has held 2G licenses "illegal and unconstitutional".

He recalled his interaction with the media last week on the trial court dismissing the plea against Home Minister P Chidambaram on his alleged involvement in 2G spectrum scam.

"I said if even after dozens of ignominious defeats in UK and Australia in Test Matches and One-Dayers, the Cricket Control Board can feel so ecstatic about a single T-20 victory as to put out the news as PAID NEWS, why cannot the Government emulate the Cricket Board...," he said, adding the government could have used the front page of a newspaper "to highlight as Advertisement the remarkable relief P. Chidambaram has received from a court."

The BJP leader said that this relief has come after an avalanche of judicial reprimands and admonitions of the government from the Supreme Court and several high courts.