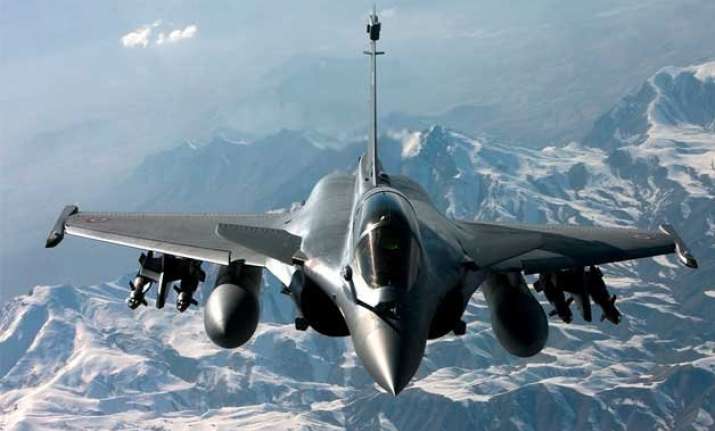 New Delhi: With just two days to go before French President Francois Hollande lands in India as Guest of Honour at the Republic Day parade, uncertainty looms large over the fate of the much hyped multi-billion dollar Rafale fighter plane deal between the two countries.
French Ambassador Francois Richier today said that a "complex negotiation" is currently underway but refrained from making a final committment on the outcome of the deal. "The discussions are taking place at present. So I cannot say what will be the outcome of this. They are not finalised. Indeed it is a complex negotiation," Richier told reporters here.
The envoy said, "Of course I will share with you that I am hopeful. But hopeful does not mean we have certitude. Work is being conducted with a lot of energy." An inter-government framework agreement is expected to be signed during the visit of Hollande but a final contract will take time as the cost negotiations are still on.
"There will be an inter-government agreement because it is a government to government negotiation. Everything will be within this IGA and its annexure. I can confirm this because it is no surprise," he said. Richier later clarified that he did not mean that the IGA will be signed for sure during the visit.
Defence sources said the main problem relates to the cost issue. It is expected that the final contract for the 36 aircraft, including its missile system and others, will cost around Rs 60,000 crore.
Air Marshal Rakesh Kumar Singh Bhadauria is heading the price negotiations from the Indian side.
The jet deal was agreed upon by Preisdent Hollande and Prime Minister Narendra Modi during the latter's visit to Paris last year. The PM announced India would buy 36 Rafales in flyaway condition. Both leaders also ordered government-to-government talks after commercial negotiations with the manufacturer, Dassault Aviation, collapsed.
The Rafale deal is key to the $150 billion military modernisation drive that has been launched by India. The Air Force has said it needs fighter jets urgently to face China and Pakistan.
Meanwhile, asked about the co-development project of a short range surface-to-air missile by the Defence Research and Development Organisation with MBDA of France, the Ambassador said, "We are working on it.
"Of course, we expect a decision on this by the Indian side. May be not now but in the future," he said.
Replying to a query on possible order for more Scorpene submarines besides the six already under construction, Richier said, "Let us focus on Rafale for now."
(With PTI inputs)