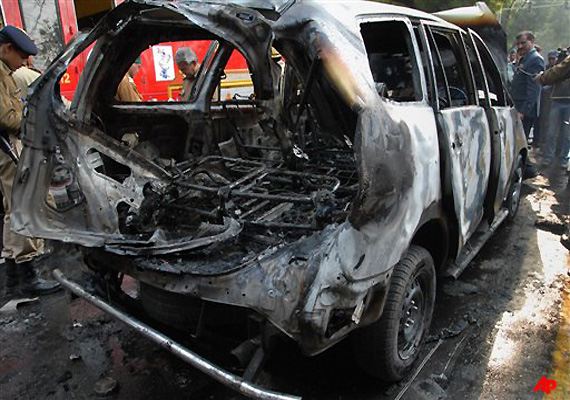 New Delhi, feb 13: The "sticky" bomb made its debut in Iraq, when car blasts were the order of the day.  

A "sticky" improvised explosive devices, or IEDs, can be quickly tucked under a car bumper, and held in place by magnets.

Which means any vehicle can now be turned into a car bomb, or an assassination tool. The driver often has no idea of the deadly modifications to his vehicle. Which makes stopping the bombs that much tougher.

He explained that a big part of checkpoint security is to keep a keen eye out for suspicious behavior exhibited by drivers, and to become familiar with the drivers who routinely pass through.

"Now," he said, "if there is a sticky bomb attached to the car, and the driver does not know they have it, you can not have a good idea if this is a dangerous car."

For years, the trend in Iraq was for bombs to get bigger and bigger — like this cement-mixer-turned-IED seen in 2007. But now, militants are looking for stealth, not raw killing power. So they've turned to a weapon that's decades-old.

"Sticky bombs were attached to the sides of ships during World War II, and magnetic booby traps were used during the conflict in Northern Ireland," the New York Times explains.

"Magnetic IEDs… were first used in Iraq in late 2004 or early in 2005, according to the American military. But sticky bombs have become steadily more common since the start of this year, from an average of two explosions a week caused by them this spring, to about five per week more recently."

The sticky bombs have also become assassination weapons.

"The bombs have been used against Iraqi government officials, particularly those who work in the army and police," the Washington Post observes. "Local leaders, judges, journalists and members of U.S.-backed Sunni armed groups have also been attacked."

Worldwide, Israeli diplomats have been told not to use their cars till security checked. That's how the sticky bomb in Tbilisi, Georgia was noticed.