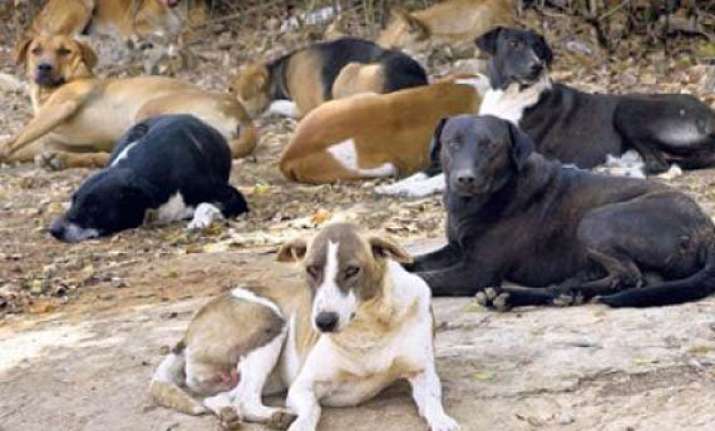 Jamshedpur: Jamshedpur municipal authority is running a project to control stray dog population, blamed for the incidence of rabies in humans, through mass sterilisation.
Burgeoning stray dog population and increase in the incidence of rabies are a persistent problem faced by city fathers across the country and most of the methods employed so far like killing and relocation have failed.  
The Jamshedpur Utility and Services Company (JUSCO), which provides municipal services in the Tata Command area in the Steel City, in association with the Humane Society International and the Association for Prevention and Control of Rabies in India launched "Dog and Rabies Management Project" last January.
To help JUSCO in its objective, the Geographical Positioning System (GPS) was introduced for the first time in eastern India, Manojsingh Shekhawat, Head, Public Health and Horticulture Services of JUSCO, a 100 per cent subsidiary company of Tata Steel, said.
"On an average, over 500 stray dogs are being sterilised every month since January at JUSCO's Sterilisation Centre at Baridih here," Shekhawat said.
Around 2,700 stray dogs out of a population of 25,000 have been sterilised till August last against 3,460 sterilized last year, he said.
Shekhawat said mass sterilisation and vaccination have been the only proven successful methods in reducing stray dog population and eradicate rabies.
Expressing concern over the increasing number of stray dogs, Shekhawat said that while their population had increased by 17.3 per cent in the last ten years, the dog-human ratio in the steel city was put at 2.24 per 100 people.  
The number of deaths due to human rabies was estimated to be around 20,000 per year in the country, where dog bite cases recorded five per 100 population, he said.  
The maximum number of deaths in the world due to human rabies (36 per cent) are reported from India, he said.  
Shekhawat said an integrated approach was adopted for the sterilisation programme in which elimination of human rabies, control of stray dogs population through sterilization, reducing dog bite incidents through awareness programme and community awareness and reducing stray dog movement through waste management control programme were taken up simultaneously.
Shekhawat said that the Human Society International (HSI) adopted Catch-Neuter-Vaccinate-Return (CNVR) protocol to make the project, a success.