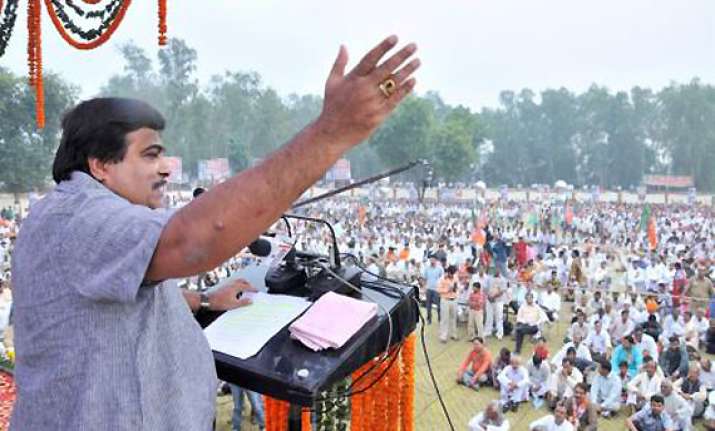 Deoria, Feb 7: Calling the ruling BSP in Uttar Pradesh a "wholesale kirana party", BJP president Nitin Gadkari today said inspite of abundance of productive land and resources the state is not progressing.

"In UP, productive land and resources are available in abundance, but I ask you that despite this why poverty, hunger and unemployment exist in the state," Gadkari said addressing an election meeting at Pathardeva seat from where state president Surya Pratap Shahi is contesting.

While SP was a party of father-son duo, BSP was a "wholesale kirana party", Gadkari said.

"Congress, SP and BSP are not guilty for poor state of affairs in the state, but you (people) are responsible. Till the time you vote in the name of caste, community and religion situation will not improve," he said.

Gadkari said that due to series of corruption and scams credibility of the country has declined.

"The Prime Minister instead of giving reply should go to Badrinath and Kedarnath," he said.

Criticising Congress, SP and BSP for not paying heed to the plight of farmers, the BJP president said their income could be increased by providing them hybrid seeds.

"If this cane rich area is poor, it is due to the loot and wrong policies of Congress, SP and BSP," he alleged.

Commenting on Congress' leadership, he said that it's top posts were reserved for Gandhi the family.

"From Nehru to Sonia Gandhi all gave slogans of removing poverty, but its surprising that there is no change in the living standard of villagers, poor and minorities, only Congress leaders and workers have become rich," he alleged.

"While Mulayam Singh Yadav's dream is to crown his son Akhilesh as the chief minister of Uttar Pradesh, Sonia's dream is of making Rahul Gandhi Prime Minister," he alleged.

He said that BJP was the only party where a common worker can become CM and PM.

Speaking on the occasion, senior party leader Uma Bharati appealed youths to turn into 'Hanuman' to burn the 'Lanka' of corruption and crime.