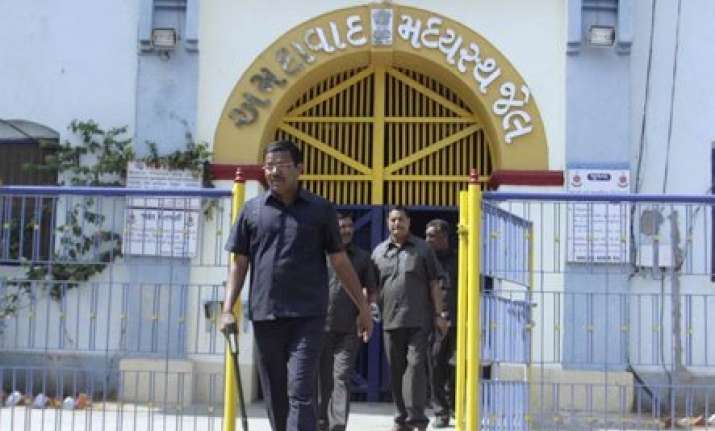 Ahmedabad: An affidavit filed in a local court by the accused in the 2008 Ahmedabad serial blasts case has said that around 15 of them are on a hunger strike against "inhuman treatment" being meted out to them by authorities in Sabarmati Jail here.
The affidavit was filed in the special sessions court of principal judge, Geeta Gopi, by a relative of one of the accused yesterday.
"Fifteen (accused persons) have proceeded on hunger strike and two of them are critical. Jailer A I Shaikh (of Sabarmati Central Jail) is treating them inhumanely and with cruelty. Sheikh had threatened some of the prisoners on September 26, 2014 and also beat them up brutally," the affidavit said.
"Therefore, we feel it proper to put to the notice of the court, as we are under custody of this court, to take proper action immediately at least to save the lives of those who are on hunger strike and for preventing the jail authorities to take law in their hand," it said.  The affidavit was filed by Rais Agarbattiwala whose younger brother Usman Agarbattiwala is one of the accused lodged in the jail. It is likely to come up for hearing on Monday.
According to the affidavit, the accused persons are not allowed to meet their relatives and they are kept at a place where no sunlight can reach.
They are punished by the jail authorities for no cause or for negligible reason, it said.
According to advocate Khalid Sheikh, through whom the affidavit was filed, the accused are on a hunger strike in jail since September 26 as they were being allegedly treated badly by authorities there.
"Some of the blast case accused went on a hunger strike on September 26. Later, a few others also joined them as all of them were not being treated humanely. On September 26, they were beaten up by jailer A I Shaikh and after that they went on hunger strike," Sheikh told PTI today.  56 people were killed in 21 serial blasts that had rocked Ahmedabad city on July 26, 2008.  Gujarat police had charge-sheeted 100 people in the serial blasts case.
The accused had tried to escape from Sabarmati Jail by digging a tunnel in 2012. However, the plot was exposed when authorities found out the tunnel, which is 218-feet long, inside barrack No. 4 'Chhota Chakkar' on February 10, 2012.  
The accused are being kept separately in new jail building since then.