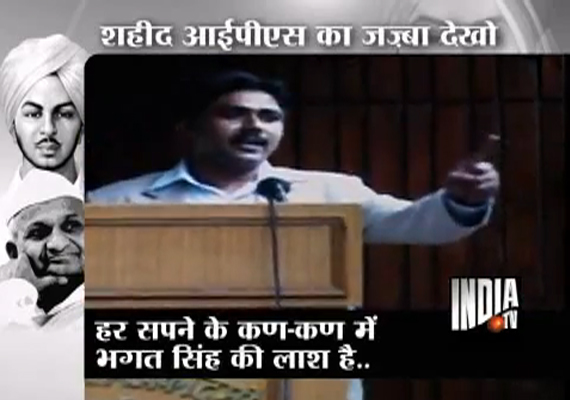 New Delhi, Mar 27: The two patriotic poems penned and read by slain IPS officer Narendra Kumar at the Lal Bahadur Shastri  Academy  for Civil Service Officers in Mussorie in 2009 have been posted by India TV on YouTube and the video has become an instant hit.
Narendra Kumar was mowed down by a tractor trollery driver belonging to the local stone mining mafia in Morena, Madhya Pradesh, three years ago.
His brutal murder is presently being investigated by CBI after a public outcry against the state government. 
In two days, the video has clocked 1,036 views.
The video shows a footage where late Narendra  Kumar is reciting a couple of poems written by him during an orientation course in Mussorie in 2009.
Kumar was known for his passion towards writing on contemporary issues and happenings among his batch mates.  
These are the lines of his first poem, which was recited by Gandhian Anna Hazare at Jantar Mantar  on March 25 :  
"Bhagat Singh Ki Laash"
Aaj Naxali, Kal Shiv sena, Andhra-telangana walon,
Maharashtra, Karntaka, Gorkhaland Maang karne walon,
Nirankariyon, Akaliyon, Kashmir khatm kahne walon,
Khalistani pagalpan ke liye jhagad marne walon,
Kisi bahaane tod-fod ki duniya me rahne walon,
Tum-Tum walon, Hun-Hum walon,
Tu-Tu-Main-Main walon
Hindi walon, Urdu walon, Telugu-Malayalam walon,
Prant-Prant ke vibhajakon, bhashaon par marne walon,
Apni lekhani se bas apni hi padhne walon,
Dekho - Dekho dharti wahi  and wahi aakash hai
Jis dharti ke rom-rom me Bhagat Singh ki lash hai. 
Is dharti ka parichay,
Is dharti ka parichay, is dharti ki mitti aag hai,
Bhagat Singh ke kadamon ki jiski kan-kan par chhaap hai,
Ek kali is upvan ki, tum mat nocho, mat todo,
Aur ek kali bikharaane se pahle tum bas itna socho
Socho, amar shahidon ka pyaara iska pratyek prasoon hai
Aur Har paudhey ki jad ke niche Bhagat Singh ka khoon hai. 
Iska bhanwra lahar-lahar ke tab se ab tak yeh bolaa,
rang de basanti chola, mera rang de basanti maa chola
Jaan hatheli par lekar is upvan ka har phool khilaa
Sar par baandhe kafan, pair par babool ka mela
Is upvan ke aas pas mandarayee jitney sapne hain
Lahoo sinchey wo sapney jo Bhagat Singh ke apne hain. 
Aur wahi kabhi saakaar banenge, inka yeh vishwas hai
Kyonki har sapne ke kan-kan me Bhagat Singh ki lash hai. 
Ab chhodo bhi aapas mein dange-fasaad ki baaton ko
Inmen uljhe rahkar mat vyarth ganvaon din-raaton ko
Kahan gayi woh dhridhta jise dekh kar seena phoola
Utho choom lo us phandey ko Bhagat Singh josme jhoola
Hriday-Hriday ki khaai paat do, aur jod do us paati se
Jis paati par khada Bhagat Singh guzar gaya is maati se.  
Us matwaale ki shourya ki boondon se saagar bhar do
Inqalab ke swaron se Bharat ko nutan swar do
Zahar bujhe ye teer chhodna ab aapas me chhodo bhi
Apni galti ko samjho bhi, apni raahon ko modo bhi
Ab na rahen ghadiyan udaas yoon, ab na rahen gamgeen yeh pal
Bhagat Singh ki maa ki aankhon se bahne na paye ye jal
Kyonki uska tum matwaalon par ab bhi atoot vishwas hai
Kyonki us budhiya ke rom-rom me Bhagat Singh ki laash hai.  
According to Times of India, Keshav Dev, father of Narendra Kumar  said, "He had been penning poems and plays during the last few years. We are now hoping to retrieve his laptop, presently in police custody. It carries all his works."
Kumar's passion shines through his recital of the poem which is laced with patriotic sentiments.
A second poem, titled Kashmir, rues about the present status in the strife-torn valley. The lines read "Mann karta hai phool chadha dun loktantra ki arthi par" (I feel like paying homage to the remains of democracy). The poem goes on to praise the likes of Sardar Patel and the need for them today.
"...Ki kayarta na samjho singho ki khamoshi ko...Main ghati ke aansuon ka santap mitane nikla hun." (Do not take the silence of the lions as cowardice...I have dedicated myself in alleviating the pains of the valley."
The page has been flooded with comments paying tribute to him. One reads "really awesome poem..brave heart, poem by real brave charismatic hero ..kudos to Shaheed Narender Kumar." Another slams the government for his death. "Jo desh ek IPS ki raksha nahi kar sakta woh aam aadmi ko kya bachayega?" (How can a country that cannot protect an IPS officer, protect a common man?)
"Anna read this poetry at Jantar Mantar today as a tribute to slain IPS officer Narendra Kumar and the late officer's wife was there too...Loved the poetry though. WOW!!!," reads another.