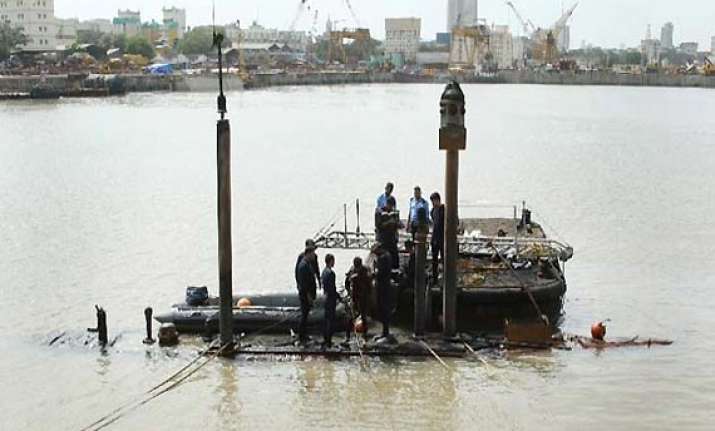 Mumbai: Battling difficult conditions, rescuers from Indian Navy extricated body of one more victim from the submarine INS Sindhurakshak, taking the total number of bodies recovered so far to six, naval sources said.
The rescue team had on Saturday extricated badly charred bodies of five of the 18 personnel trapped in the craft after gruelling efforts as naval authorities voiced worst fears that others on board might have been incinerated too.
"Body of one more sailor was recovered from the submarine late this evening," Navy sources said.
The divers had managed to open a second access to the sunken vessel during an overnight operation.
Sources said the Navy divers are carrying out the task of searching within the submarine by "feeling each inch" due to zero visibility within flooded compartments to locate the missing bodies and mark a probable route to be used for further rescue operations.
A Navy press release said: "Divers involved in search within the stricken submarine Sindhurakshak, met with some more successes last evening.
"They located and brought up the body of the sixth crew member just forward of the Control Room despite odds of visibility and mangled metal.
"They also successfully gained access into the forward compartment by breaking open jammed hatches.
"The assessment of the damage and state of the hull in this portion of the submarine will now continue through repeated entries by divers.
"Samples from the bodies of six crew members have been sent to Central Forensic Laboratory (CFL), Kalina for DNA finger printing.
" Samples have also been obtained from blood relatives of personnel and forwarded to CFL.
"The Navy Family Support Cell in Mumbai has remained in continuous contact to provide the necessary succour and emotional support to members of the families at this hour of grief.
"Representatives of the 18 crew members have been accommodated in Naval premises at Mumbai and are being provided periodic updates on the progress of search.
"The Naval Command in Visakhapatnam has also established a similar family support cell to interact with family members of the crew who could not travel to Mumbai.
"The professional salvers from reputed companies have commenced preliminary survey activities. The present state of the submarine and various options for salvage are being assessed", the press release said.
18 Navy personnel, including three officers, were on board the Russia-made submarine when a devastating fire ripped through the frontline underwater craft following serial explosions on Tuesday midnight.
The Navy has instituted a Board of Inquiry to probe the cause of the explosions and fire which is expected to submit its report within four weeks.
Mumbai Police have also registered a case of accidental death in connection with the worst peacetime tragedy suffered by the Navy.