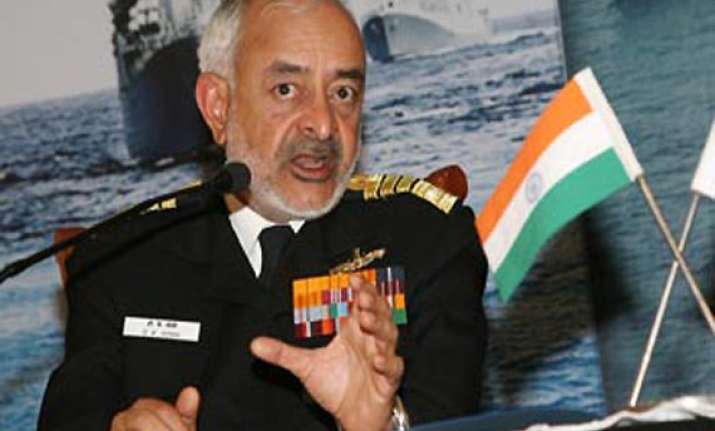 Mumbai: Indian Navy chief Admiral D K Joshi today said the possibility of sabotage in the INS Sindhurakshak submarine tragedy cannot be ruled out, but presently there are hardly any signs of sabotage.
Replying to a barrage of queries from reporters, after inspecting the mishap spot with Defence Minister A K Antony, Admiral Joshi discounted TV news channel reports about the explosion having been caused due to battery charge resulting in leaking of hydrogen towards ordnance causing a bigger explosion.
The Naval chief said, the submarine's battery recharge was done only three days ago, and there was no battery recharge going on at the time of mishap.
Admiral Joshi said, there were two explosions - first a minor explosion, followed by a bigger explosion caused due to armaments.
He said, the Naval divers have been able to reach up to the first hatch of the submarine, and only after the first hatch is opened and dewatering is done, the submarine can come up to surface level and our divers can reach up to the apartments in which three officers and 15 sailors were present.
"In Naval disasters of this kind, the casualties often is 100 per cent, but we are hoping for the best, and preparing for the worst:, Admiral Joshi said.
Admiral Joshi said, not all the ordnance kept in the forward compartments of the submarine have been destroyed, and the submarine itself was "salvageable".
"The submarine is presently in vertical mode on its wrong side just below the surface", he said.
The Board of Inquiry, he said, has been asked to submit its report within four weeks.
Admiral Joshi said, the 16-year-old submarine was retrofitted at the Russian shipyard and had returned in April this year, and everything was normal. The submarine had done more than 1000 diving hours, he said.
"We are yet to find out a single cause behind the explosion that took place inside the submarine", the Naval chief said.
He ruled out any connection of this mishap with the one that had taken place with the same submarine in Visakhapatnam in 2010.